Winter has the shortest days of the year, but nights dazzle at The NC Arboretum's annual Winter Lights display, from 6 – 10 p.m., through Dec. 31. This is the fifth year of the display and it lights up the night with holiday joy.
This outdoor walking tour of the gardens presents more than half-a-million energy-efficient LEDs in fanciful holiday displays. 
The family-friendly event provides the opportunity to enjoy winter — strolling through the gardens, listening to holiday music and sipping hot cocoa. 
Start at the Baker Center, then visit the nearby Cocoa Shack. The walk begins with brightly lit large-scale ornaments, snowflakes and trees decked with lights and chandeliers.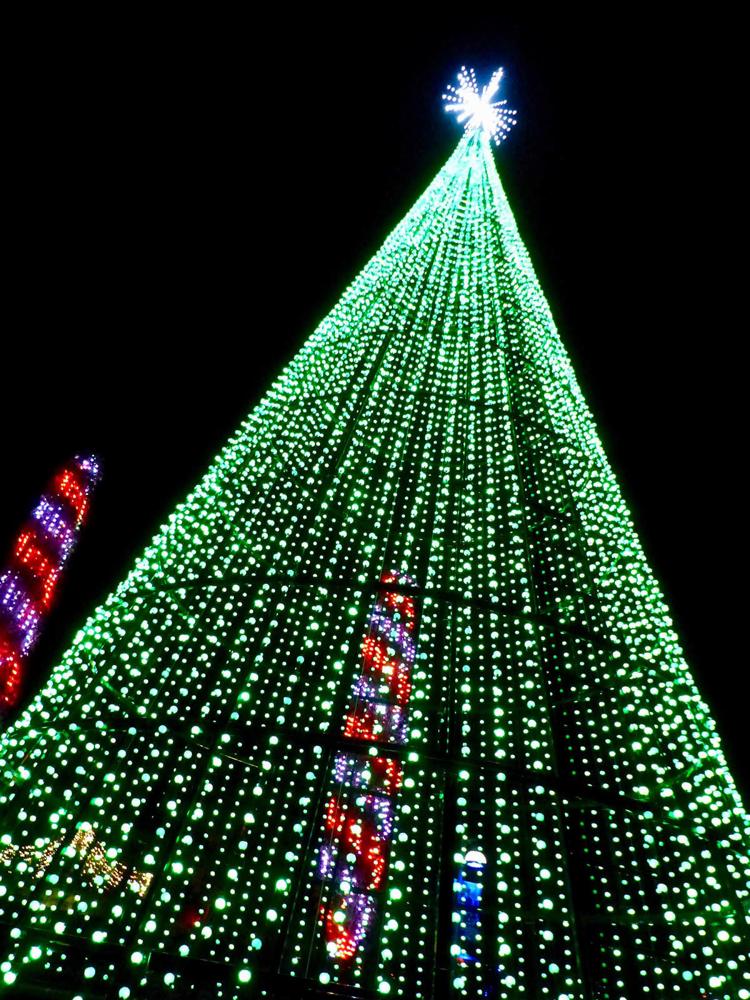 The Quilt Garden, with its raised rock viewing area, provides a view of the 50-ft. animated tree "Tree of Light" and an up-close musical experience of changing quilt patterns, timed to holiday music.
Continue through the brightly lighted stream garden to see the fanciful lighted heron — and across the path, changing colored lights, reminiscent of cherry trees. At the end, see the large lighted Winter Lights sign and gorgeous blue-lighted Snowflake Way, leading to the plaza and Education Center, where children can play games and enjoy the animatronic bears inside the Education Center.
All the light displays, beautiful and spectacular in their own right, compliment and emphasize the beauty of the Western North Carolina mountains.
"We're proud to celebrate five successful years of hosting this wonderful holiday event for Asheville and the entire region," said George Briggs, executive director of The North Carolina Arboretum. "Since Winter Lights' inception, we have welcomed more than 115,000 guests, hailing from all 50 United States and Washington, D.C., as well as several foreign countries. We're thankful for the support from our community, business partners, volunteers and staff to make this event Asheville's brightest holiday tradition."
The event is designed for comfort. Fire-pit warming stations are placed though-out the gardens for warmth and s'mores making — and the Bent Creek Bistro is open during Winter Lights with food, beer and wine.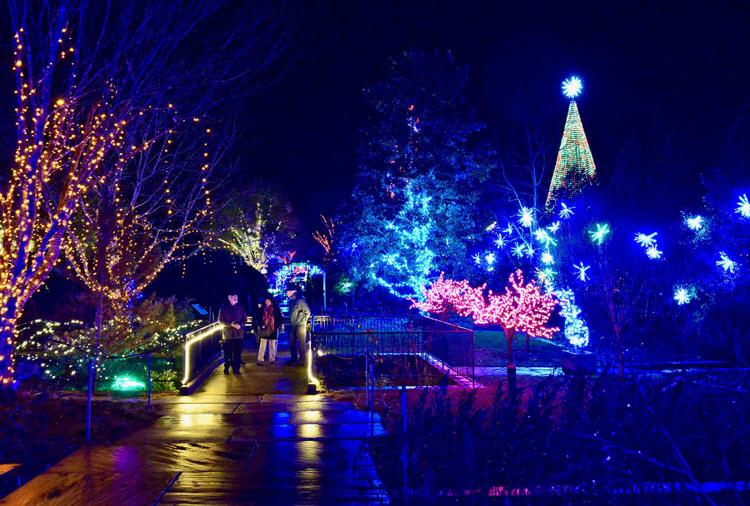 "Winter Lights is the Arboretum's largest fundraising event of the year," said Whitney Smith, Arboretum marketing and PR manager."Proceeds help support the Arboretum's educational programs, exhibits and facilities year-round. Funds generated from the display have helped the Arboretum add six more horticulture staff positions, supporting the gardens year-round."
Blending old and new
One of the new display additions this year is the "Fire and Ice" sculpture in the Education Center Plaza.
"The new central piece of a large fire sculpture, surrounded by water and lighted blue glass gives the effect of ice," Smith said. "This central sculpture was created in-house by landscape supervisor, Mac Franklin, and maintenance technician, Brain Maney." 
In addition to the returning signature 50-foot animated tree and lighted Quilt Garden, be sure to see the lighted Menorah in the Heritage Garden and Rocky Cove G-scale Railroad model train, complete with a new North Pole Express train. 
Transportation options
• The Trolley Company offers transportation to the NC Arboretum, from 6 - 9 p.m., Thursday through Saturday nights during Winter Lights — with pick-up at the Renaissance hotel in downtown Asheville and the DoubleTree hotel in Biltmore Village. Trolley rides include a complimentary cup of hot cocoa, admission to Winter Lights and music to and from the Arboretum. Tickets for The Trolley Company's Winter Lights Holiday Tour are $29.50 per person and must be purchased in advance at www.thetrolleycompany.com.
• Leap Frog Tours offers Winter Lights packages for groups of six or more, including tickets, transportation in Leap Frog's vans, with pick-up in Asheville, Brevard or Waynesville. The tour starts with a drive through the Lake Julian Festival of Lights, then on to Winter Lights at the Arboretum to walk through the display. Call 828-246-6777 or book at www.leapfrogtours.com.
Winter Lights Downtown expansion
For the third year in a row, the Arboretum will partner with the City of Asheville for Winter Lights Downtown, a holiday light display in Pack Square Park, plus there will be an expansion of light displays into Prichard Park and Biltmore Village. 
Biltmore Village will celebrate the new light display, designed by the Arboretum, during the tree lighting ceremony Friday, Nov. 30. at the 30thannual Dickens Festival.
"We are thrilled to see this light display expand to other parts of Asheville and to connect the local community with our light show," Briggs said. "We are grateful for the collaboration with the City of Asheville, the Asheville Downtown Association, ExploreAsheville.com, and Biltmore Village to help 'Light Up Asheville' this holiday season."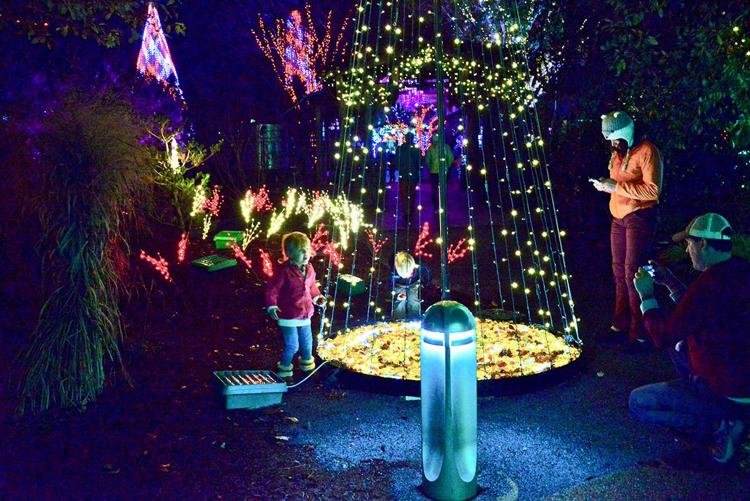 Winter Lights ticket information
All tickets are date-specific and should be purchased in advance. A $5 convenience charge will be applied when purchased at the door on non-sell-out nights.
"To help reduce traffic congestion and crowding, visitors will now be required to select an entry time of 6, 7 or 8 p.m. during ticket purchase," said Smith. "Ticket holders can enter anytime between their selected entry time and 9 p.m. Many nights, including weekends and holidays, are likely to sell out and visitors are strongly encouraged to purchase their tickets in advance."
Tickets are $18 for adults and $12 for children ages 5 -11 (plus sales tax and handling fees). Children age 4 and under are free. NC Arboretum members receive a $2 discount on tickets.
Special offerings for Winter Lights include the Arboretum's "Friends and Family" Tuesday night promotion, with tickets discounted to $15 for adults; children $10 (excludes Christmas night);plus "Arboretum Week," November 26 – 29, which includes discounted pricing for adults and children. 
Dogs and outside food and beverages are prohibited at Winter Lights. 
Purchase Winter Lights tickets at www.ncarboretum.org/exhibits-events/winter-lights.
The North Carolina Arboretum is an affiliate of the University of North Carolina, and works to cultivate connections between people and plants. The Arboretum is off the Blue Ridge Parkway at Milepost 393. From I-26, take Exit 33, and follow Blue Ridge Parkway signs for two miles to the entrance ramp. A standard $14 per vehicle parking fee is required for non-members during daytime visits. Special events and after-hours activities may require additional fees. Call 828-665-2492 or visit www.ncarboretum.org.