Ultimate Ice Cream on Tunnel Road was brimming with customers enjoying cool summer treats on a recent Friday afternoon.
Shop owner Lucia Barnes was handing out samples of popular flavors while her husband and co-owner Kevin Barnes made waffle cones in the preparation area of the shop.
And the Barnes' son, Gabe, was helping customers at the front counter.
A seasonal business to some degree, summer usually is the busiest time of the year for Ultimate Ice Cream.
"In the summer we just roll," Lucia said.
While summertime business is very welcome, the shop also has many local year-round customers, some of whom are regulars.
"We know the names of [these] customers and their favorite flavor," Lucia said.
The shop offers a large variety of ice creams in creative flavors such as brown sugar bacon maple, Kahlua mocha almond, goat cheese with bing cherry and chocolate raspberry truffle—as well as traditional vanilla, chocolate and strawberry flavors.
"We have a lot of fun with flavors," Lucia said.
"Boozy" flavors on the menu include pumpkin whiskey and spiced apple cider sorbet.
"Alcohol works well in ice creams," she added. "We wanted to make some sophisticated flavors."
For the alcohol-flavored ice creams, the Barnes purchase a blonde whiskey from Troy and Sons Distillers in Asheville, adding a maximum of 5 percent to the batches.
If more than that amount is used, the ice cream wouldn't freeze, Kevin said.
For seasonal ice creams such as pumpkin, the Barnes purchase organic whole pumpkins and roast them to give their product a full, wholesome flavor.
The Barnes use milk from a collection of local dairies for the ice cream they make in their commercial kitchen. The milk they use is free of antibiotics and synthetic growth hormones and has a high butterfat content to produce a premium product.
They also use local ingredients and organic fruits and vegetables for the many flavors of ice cream, sorbets, gelato and spumoni sold at Ultimate Ice Cream, and also marketed to local restaurants.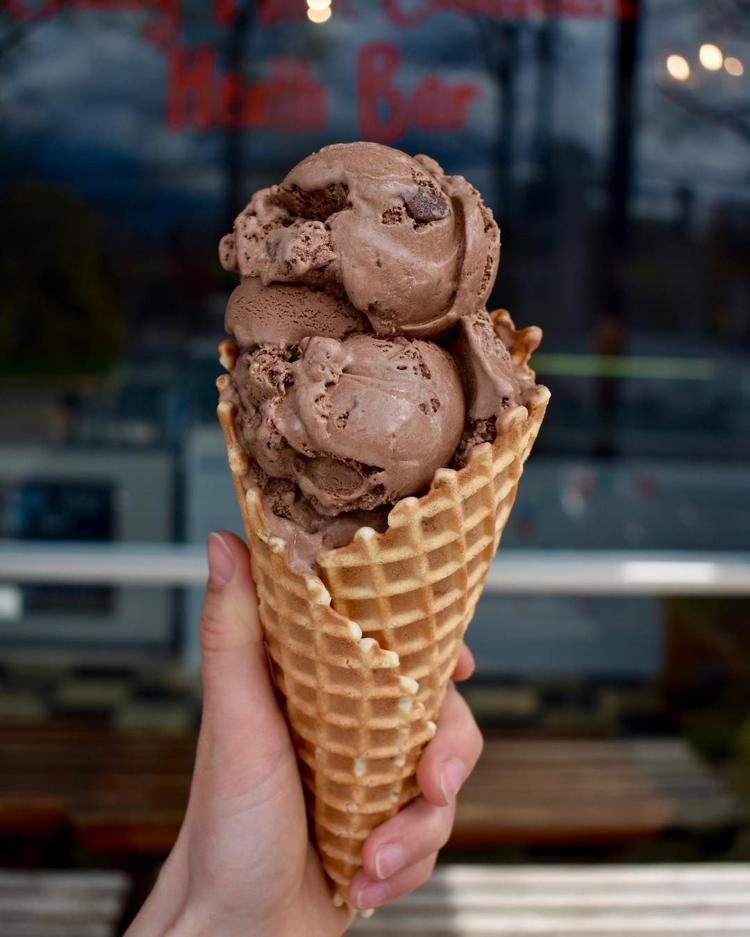 An ongoing aspect of the Barnes' business is supporting local non-profit charities through the Flavor of the Month initiative. This month MANNA Food Bank is being highlighted with the MANNA Banana flavor.
The Barnes also participate in the Blue Jean Ball that MANNA Food Bank holds each year as a fundraiser, bringing ice cream that they serve to guests.
"It all works out really well. We have a great community," Lucia said.
Both Kevin and Lucia are former social workers who decided to go in another direction by opening the ice cream shop 13 years ago.
For many years, Kevin worked with people who have developmental disabilities while Lucia worked with youngsters and families in a foster care program.
Thinking that they would have more control over their work lives and be able to spend more time with their children, the couple decided to buy an ice cream store.
At first the time commitment seemed longer than they anticipated for their new enterprise as they worked long hours.
At this point in time the Barnes have good assistance through the shop keepers they employ, some of whom are college students. Their 20-year-old son, Gabe, also works regularly at the shop.
The couple say they enjoy the social aspect of running an ice cream shop and getting to know their customers.
"We always joke it's social work of a different kind," Lucia says with a smile.
Since launching the business, the couple has expanded it.
A few years ago, the Barnes opened a second Ultimate Ice Cream shop on Charlotte Street. And they now have a separate location in Haw Creek for producing ice cream.
For more information, visit the web site at https://ultimateicecreamavl.com/.
Ultimate Ice Cream, 1070 Tunnel Rd., is open 12:30 to 9 p.m. Sunday through Thursday and 12:30 to 10 p.m. Friday and Saturday. The phone number for this shop is 828-296-1234.
The downtown shop at 195 Charlotte St. is open daily from 12:30 p.m. to 10 p.m. The phone number for this location is 828-258-1515.