Enka High School athlete Tyler Moore placed first in the state in the 300 meter distance run at the Polk County Reindeer Games on Jan. 8 with a time of 35.74 seconds.
The invitational tournament included the best runners in the state at the NCHSAA 3AA level. Tyler sprinted to first place finishes at three of the four tournaments he competed in so far this winter at both the 300 and 55 meter distances.
Tyler has improved his times each year of high school according to his coach, James Galloway.
"I knew a couple of years ago he had the ability, and like any runner, it takes commitment to do the hard work to be one of the best," said Galloway.
Galloway says that Tyler has a great work ethic and will do whatever is necessary to reach his goals.
At the Polk County Invitational, Tyler outpaced the second place finisher by just .03 of a second. When asked what it takes to have the mental strength to edge out the competition and win, Tyler says participating in the invitationals is special — it is not a given that money will be available for the runners who qualify, and he wants to do his best. From his coaches and parents he has learned to ask 'where do you see yourself?'
"For me, it's a personal game. I know how much I've prepared, and I remind myself of all I've done to get here," Moore said.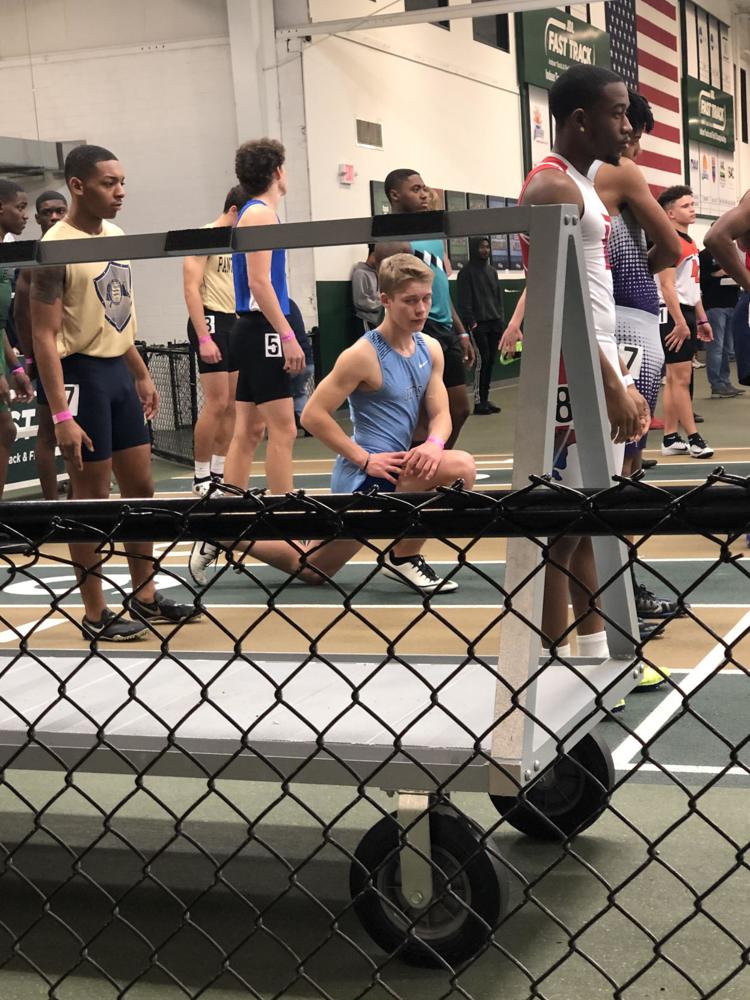 Galloway says that Tyler has one of the best mental games he has coached in a long time.
"He does not like to lose, and if an athlete is going to beat him, he better have his 'A game' that day," Galloway said. Tyler has become one of the state leaders in his events, and Galloway says the state title will be won by inches, so even small things in his race will count.
During practice, Galloway gives sprinters on the team a head start on a run and Tyler has to track them down. The goal is keep Tyler from catching them, so all parties end up working hard.
"Tyler is a very good team member," Galloway says. "He encourages and supports the other athletes and supports building our team."
Tyler says track allows a runner to compete as an individual and as part of a team. "We achieve a common goal when we win, and we become part of each other's journey."
The Biltmore Lake athlete played a variety of sports, from soccer to football, before settling on track. Both his father, Bill, and mother, Stephanie, competed in track in high school. Their encouragement and Tyler's natural talent for speed and his competitive spirit helped in his decision to become a sprinter.
Enka High's track team faces its share of financial challenges. Invitational tournaments are expensive, and even those athletes invited cannot always participate. His father Bill Moore has devoted hundreds of hours to fundraising for the team, the school, and within the community. While the winter season is officially called 'indoor track,' Buncombe County schools do not have an indoor track for training or meets. Western Carolina high schools compete outside throughout the winter, regardless of temperatures.
The lack of proper training facilities puts the runners at a disadvantage when facing athletes from school districts who can train indoors prior to the large state meets, Tyler says, but he adds that it is something they have to get used to. Outdoor facilities at Enka High are limited as well. The school has not had an outdoor track the runners could use until recently. Last year the track was redone but is awaiting completion. Galloway is hopeful it will be ready this spring, and the seniors will be able to host their first home meet.
Tyler says his goals for his senior season include state championships at the 300 and 55 meter distances. Galloway says Division I coaches are already watching Tyler. Georgia Tech has given him target times to achieve in the 100, 200, and 400 meter races, so he will compete at those distances as well as possibly the 500 meter.
Outside of track, Tyler is a stand-out student at Martin L. Nesbitt Discovery Academy in Asheville, Buncombe County's Science, Technology, Engineering, and Math (STEM) high school located in West Asheville. Outside of running, his future plans include a career in science, math, or engineering.