The axe-throwing craze has taken the nation by storm — and it's thriving in Asheville. Why do people throw axes at a target? It's cathartic, fun, and anyone can learn to hit the target, with the proper coaching.
"It's ridiculously addicting," said Axeville Throwing Club co-founder and co-owner Ryan McClenny.
Don't be afraid of trying it. Expertly trained coaches ("axperts") help first-timers get the rhythm of the throw to safely hit the target.
"The first time people hear the 'thunk' of sticking the target, they get the feeling of 'that was cool,'" said Axeville Throwing Club co-founder and co-owner Glen Merchant. "Don't overthink the throw. It's the simplicity of throwing something at something."
"When people first come in, they don't know what to expect," said McClenny. "Then they are all smiles when they hit the bullseye."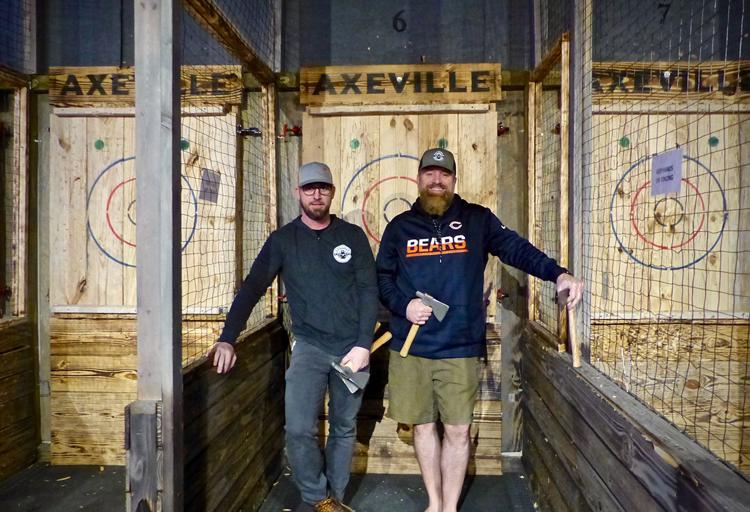 Axe throwing is a sport that can be enjoyed by all ages. And, women throw axes very well, by the way.
Behold the axe
Axes go back to the Stone Age, when they were used as a tool. Famously, axes were carried by the Vikings.
Native Americans carried sharp tomahawks used in hand-to-hand battle. But, they didn't throw them, since they were far too valuable to be thrown and not retrieved.
Early American settlers were known to set up targets and axe-throwing tournaments when they came into town to do trading.
And, of course, lumberjacks have used axes in timbersports competitions for some time.
Enter Canadian backyard axe throwing
The establishment of axe throwing as a "fun" and friendly competition is attributed to a former Toronto bartender, Matt Wilson, who watched friends throw hatchets at a stump during rainy weather boredom.
Wilson set up a target in his backyard and invited friends to experience the fun of throwing sharp axes at a target. Interest grew by leaps and bounds, and Wilson started the Backyard Axe Throwing League (BATL) in 2006. The rest is history, as axe throwing became a world-wide phenomenon.
BALT was the first to offer urban venues for indoor axe-throwing.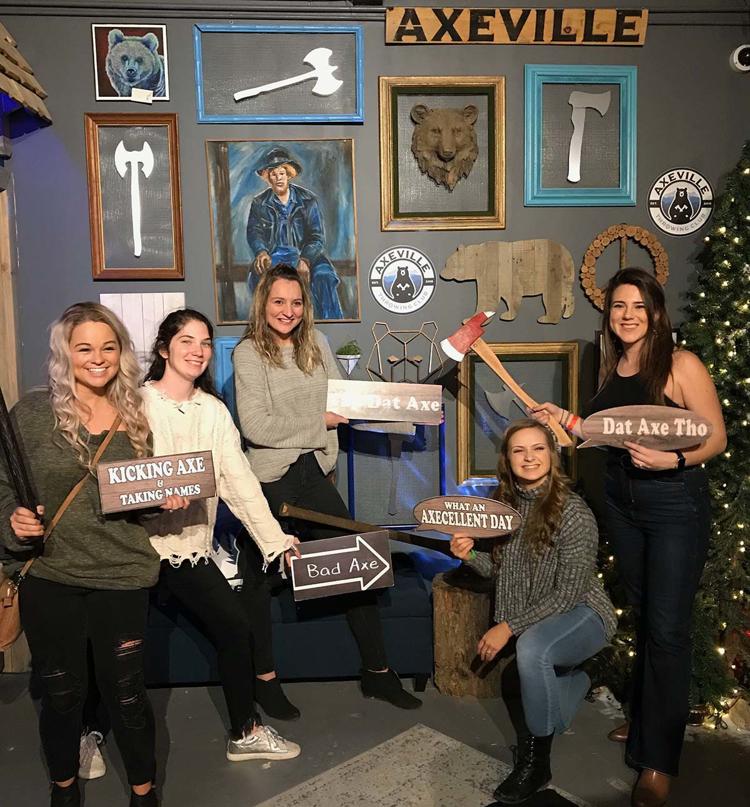 Axe-throwing comes to Asheville
Axeville Throwing Club opened in March 2019, the brain child of cousins Merchant and McClenny and Merchant's partner, Amy Zimmerman. Located in a transformed building that was formerly a topless club on New Leicester Highway, the Axeville Throwing Club, is a welcoming, woodsy club. It has 10 throwing lanes — each lane containing two targets — carefully constructed by McClenny for safety between throwers.
There is also a bar for beer and wine.
What could go wrong with the combination of throwing sharp objects and drinking? Not much, according to the co-owners.
Safety comes first, and all participants are coached until they get the hang of hitting the target. While participants will have a beer, McClenny has noticed that people become more consumed with throwing than drinking.
The woodsy interior, designed by Zimmerman, has three comfortable lounge areas with faux fireplaces, welcoming aromas and a feeling of being in a comfortable lodge. Zimmerman designed a photo op area, complete with lumberjack-flannel shirts and props for fun social media postings.
"Eighty percent of the décor in the club is do-it-yourself construction or second hand items we've had a home or picked-up," Zimmerman said.
The 'axes' are actually hatchets, their smaller counterparts.
"The hatchets are 1.5 pounds in weight," McClenny said. "They are the most easily thrown and they make it easy to learn."
The coaches are personable and know how to get patrons hitting the target in a short amount of time.
Axeville's lanes often book up on weekends, so online reservations are recommended, either for one-hour or two-hour blocks of time.
Axeville Throwing Club, at 99 New Leicester Highway, is available for private events, including bachelor and bachelorette parties, group celebrations and corporate team-building outings. The club is for people 18+.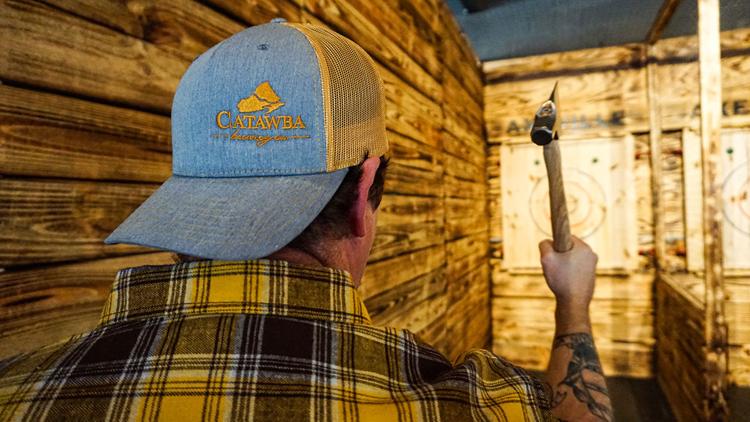 Catawba Biltmore Village
Axeville Events was formed to bring the throwing experience into a brewery tasting room — and Catawba Biltmore Village has the first permanent in-house axe-throwing lanes in an Asheville tasting room. Axeville Events constructed four throwing lanes at Catawba Biltmore Village, which hosted the lanes' grand opening Jan. 8.
"Visitors at our Catawba Charlotte tasting room and sister brewery, Palmetto, in Charleston have become big fans of axe-throwing, with axe-throwing companies as neighbors and regular pop-up guests," said Billy Pyatt, co-owner of Catawba Brewing Company. "So, it was a natural fit to bring the same action-packed axe-throwing experience to Catawba Biltmore Village."
The woodsy character of lanes at the Axeville Throwing Club is maintained in the Catawba venue.
"Axeville has outdone themselves with the transformation of their new space within the Biltmore Village location," Pyatt said. "Patrons can expect a cozy hunting-lodge vibe with throwing lanes in a carpeted area, with comfortable chairs and couches."
And it's working out beautifully.
"Our partnership with Axeville Events has already proven to be great for both companies," said Ben Wiggins, Catawba Asheville general manager. "In the first four weeks with axe-throwing at the Biltmore Village tasting room, we've seen a noticeable increase in traffic on the days they're operating — currently Wednesdays and Fridays."
People interested in throwing are asked to sign a waiver with Axeville, which is good for either the Catawba venue or the throwing club, updating it electronically each time they come to throw.
As the popularity grows, Axeville may add more throwing times at Catawba Biltmore.
"We're optimistic that, in the near future, we'll be able to expand the days of operation for axe-throwing, so more people can experience our new favorite bar game — while enjoying a pint at Catawba Biltmore," Wiggins said.
Catawba Biltmore Village is at 63 Brook St., in Asheville. Visit: https://catawbabrewing.com or Catawba Biltmore Village on Face Book.
Booking reservations
Ready to give axe-throwing a try? Reservations are recommended by booking online at https://www.axevillethrowingclub.com, but walk-ins are taken as space is available at the Axeville Throwing Club and Catawba Biltmore.
The International Axe Throwing Federation was established in 2016 to serve the growing sport of axe throwing and facilitate inter-league competition. For information on the sport, visit http://www.nationalaxe.com.