There's a buzz going on in the mountains. And it's about the importance of bees and pollinators in the ecosystem. Crops, foods and flowers rely upon bees and other pollinators, in order to reproduce and bear fruit.
Humans get the bounty of the crops — and luscious honey, produced by the bees in their hives.
Fortunately for humans, there are beekeepers in the mountains who are passionate about caring for bees and the environment.
Killer Bees Honey Bee Farm
Killer Bees Honey (KBH), in Lake Toxaway, is a prime example of beekeepers who produce honey of the utmost purity. Sean Collinsworth and Denise Altay, owners of Killer Bees Honey Bee Farm, encourage people to visit their mountaintop apiary to learn about bees, get a hands-on experience seeing the hives and enjoy an expertly guided tasting of honeys.
Collinsworth and Altay have opened their farm atop Walnut Cove Mountain (3,500-ft. elevation) for a guided tour — an experience visitors will cherish as the most fun and learning they've had in a long time.
The tour includes expertly-guided sessions of bee behavior, a visit to the hives (in full bee gear), followed by a honey of a tasting of Killer Bees Honey.
Tasting incredibly pure, natural, artisanal honey, expertly paired with a variety of selected food, is delightful.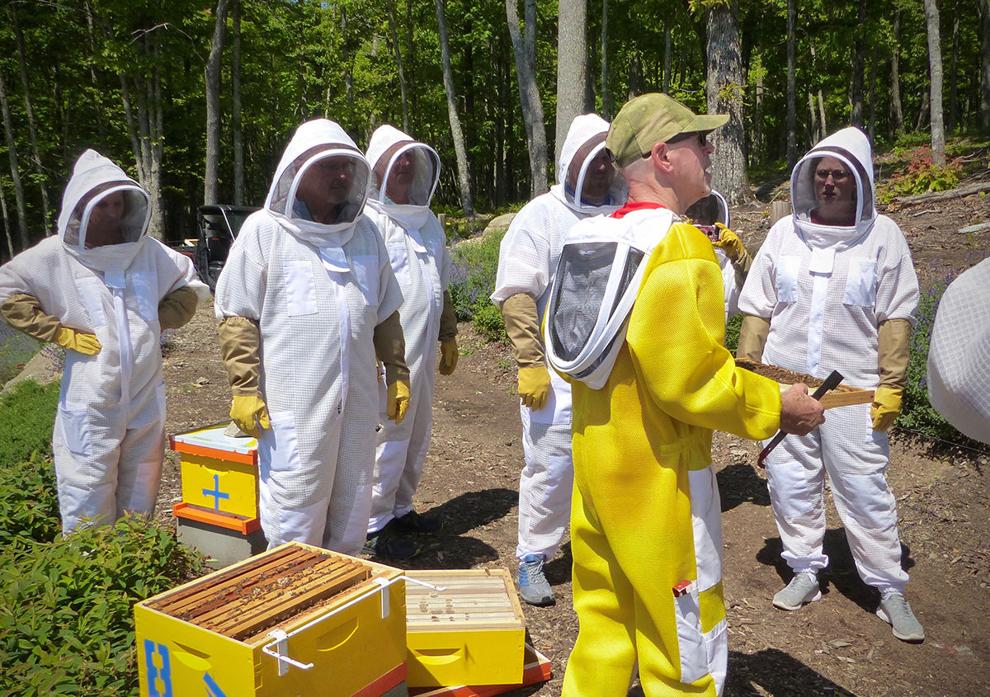 Bees are fascinating
Not only is Collinsworth a certified North Carolina Beekeeper, he is also one of few Americans to achieve certification with the Italian Register of Experts in the Sensory Analysis of Honey fromthe CNR Research Center (Consiglio Nazionale delle Ricerche) in Bologna, Italy. Collinsworth is so knowledgeable about bees and honey, he is like a honey 'sommelier.'
In the farm's pristine environment on the edge of the Pisgah National Forest, KBH bees fly up to three miles from the hives for nectar, the raw material for honey — untouched by pesticides or other toxins.
The Killer Bees Honey Bee Farm tour begins with a lively session given by Collinsworth and beekeeper Jennifer Harper. Tour-goers learn about the hive, its queen, her subjects, the caste system of the hive's matriarchals ociety and the mating habits of bees.
"The bee hive is a 'superorganism,' which communicates as one," Collinsworth said. Guests even learn about the sounds bees make and how they communicate.
Viewing the hives
The highlight of the tour is the amazing experience of visiting and inspecting the hives for an up-close look at bees and their honey making. Guests suit-up in full bee gear (safety comes first), then walk to the apiary, which has an incredible mountain view.
Tour-goers may look like they are suited-up for a lunar landing, but the full bee gear gives guests the chance to see bees in the hive — without worry. The Killer Bees Honey Bee Farm has very calm bees, in case readers might wonder.
Collinsworth and Harper challenge guests' newfound bee knowledge by asking them to point out the queen in the hive.
KBH purity
"Our story is the purity of our brand," Collinsworth said. "We work hard to sustain the environment. Everything we do is natural for the bees. We are the only beekeepers in the U.S. who send out our honeys for testing every year — and publish the results online."
Killer Bees Honey has independent testing results confirming its monofloral uniqueness and purity.
"Our artisanal wildflower and sourwoodhoney is never blended, flavored, heated, or pasteurized," Altay said. "Killer Bees Honey is harvested, hand-bottled, and packaged on our mountain top in Western North Carolina."
Sourwood honey is world-renown as the 'champagne of honey.' North Carolina's standards require that honey must be 51 percent monofloral honey to be labeled monofloral. KBH's Sourwood honey is so pure, it's been verified at 91 percent Sourwood, which is at the top of honey testing scale. Sourwood honey is produced in June and July.
"Why do we show you all this?" Collinsworth said. "It's because we want people to know about the artisanal properties of righteously good food. Now you know what goes into your honey, from the hive to your table."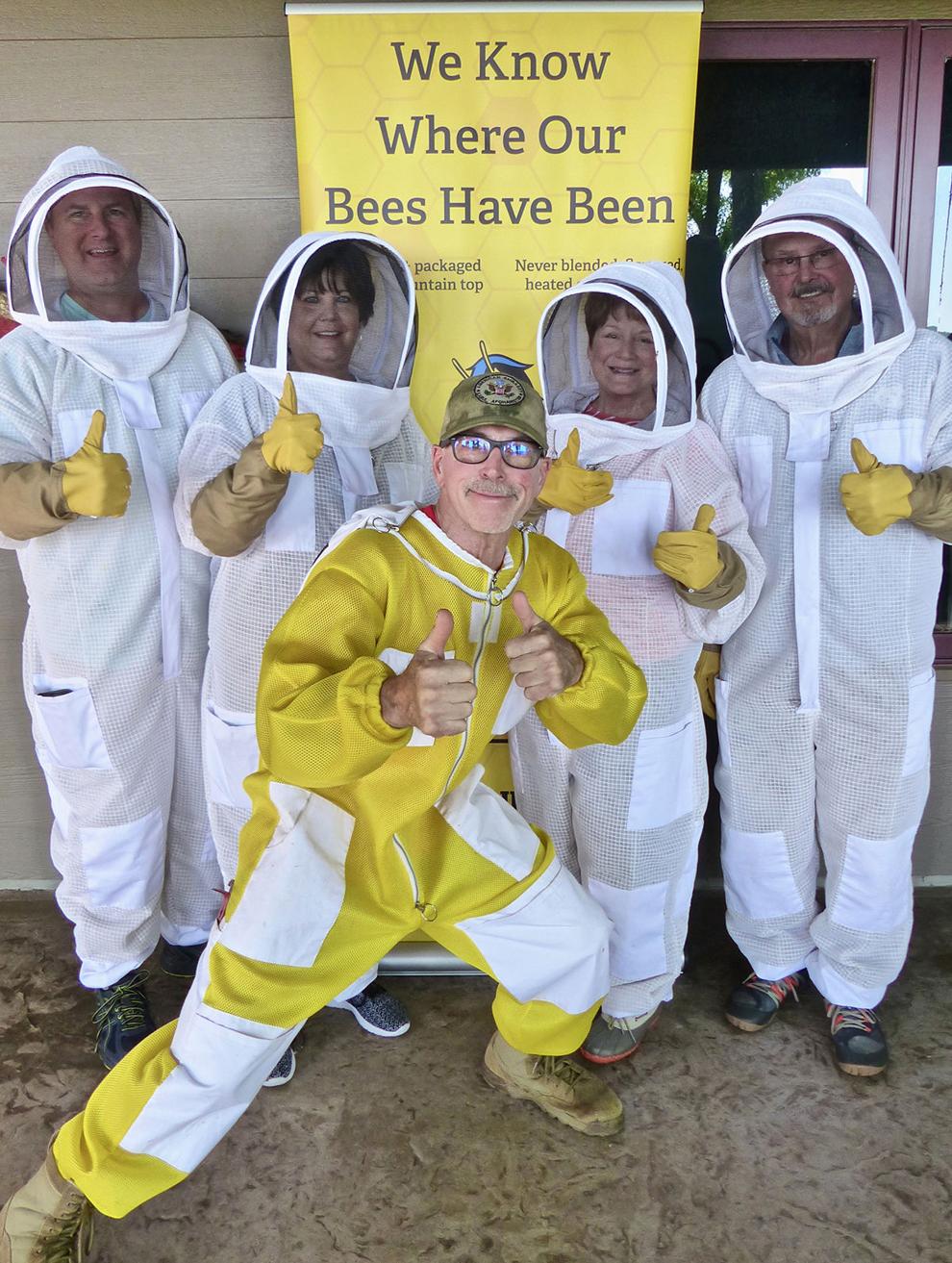 About KBH
Collinsworth began raising bees at age 12. After retirement from a major law enforcement agency, he began raising bees again. A certified bee keeper and honey producer with the N.C. Bee Keepers Association, Collinsworth achieved certification with the Italian Register of Experts in the Sensory Analysis of Honey.
Altay grew up in a family of seven children, including four sisters, which helped "prepare her for a huge colony of strong-willed female bees."
She retired from the world of finance and helps create new honey products and explores pairing Killer Bees' honey with a world of other foods.
Collinsworth and Altay started Killer Bees Honey with three hives. The apiary now has 85 bee hives, in four pristine mountain locations.
Guests rave about the tour in their comments.
"If you are in NC, you must go on the Killer Bees Honey Bee Farm tour," said guest Cory Reed, of Jupiter, Florida. "Sean and Denise were wonderful hosts and beekeepers. It's a great experience."
"It's the best, most personal tour I've ever taken," said Amanda M. on TripAdvisor. "The experience was beyond fantastic, such an interesting thing to learn more about — and a spectacular view of the mountains."
Killer Bees Honey has a full line of artisan honeys, including gift sets, wedding favors, sample packs and bottles of various honeys — such as Sourwood, Wildflower, American Chestnut and whipped Wildflower. KBH bath and beauty products and gift baskets are available on the website.
Altay summed up the passion of their Killer Bees Honey Bee Farm.
"We care so much about the bees, we are 'Am-bee-ssadors,'" she said with a smile.
To learn about Killer Bees Honey products, visit www.killerbeeshoney.com. Tours of Killer Bee Honey Farm may be booked online at www.killerbeeshoney.com/pages/tour.