In conjunction with the publication of her new book, "Skyland and Its Founder," Old Buncombe County Genealogical Society volunteer Sandy Samz gave a presentation about the history of this storied community just south of Asheville and how it came to be.
One never knows from where inspiration might come. For Samz it was in January of 2017 when a fellow volunteer brought in a small handwritten journal he purchased on eBay that happened to have been penned from June through December of 1921 by Otis Alonso Miller. A few months earlier Samz had encountered a newspaper clipping in a donated Case family scrapbook that identified Miller as the man who "laid out" the town of Skyland in 1887.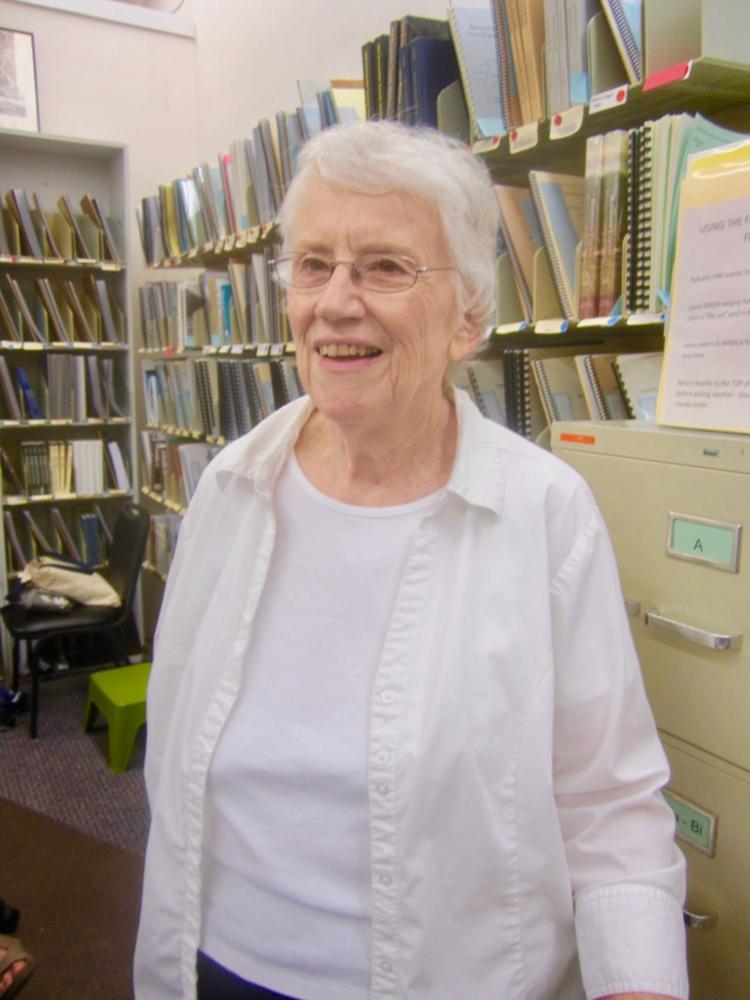 "The journal was about six months of Miller's life, and I transcribed it. He wrote everything he did in it. He was on his way to the store to buy a new journal when he got to the last page, so I know there are more out there. He recorded the weather, when he went to town, with whom he went, the name of his horse…everything. It was fascinating."
Samz said she knows people with families in Skyland understand that the Case family was a big one, as were the Lance and Murray families.
Miller was born in Lawrenceburg, Indiana, but grew up on a farm in Minnesota from about the age of 7. After graduating from college, he taught school. Samz said Miller married Ellen, the daughter of a missionary to the Native Americans. Miller later moved to Florida where he invested in real estate, and developed a subdivision on the Suwannee River.
"On July 16, 1887, a notice was placed in the Asheville Citizen newspaper regarding the fact that Otis A. Miller of Knoxville, Tennessee was planning a new town near Asheville. It cites him as being one of 'Knoxville's most far-seeing energetic and successful men.' It describes him as a real estate developer who developed a section of Knoxville known as Miller's South-Side Addition and says it is the prettiest section of Knoxville," Samz wrote in her book.
Miller decided to develop what became Skyland after moving to Asheville. "It was going to have a racetrack, a lake, elegant hotels, and its own depot. It had 20 beautiful springs with medicinal water, evidently a big thing back then. The water was said to cure liver and kidney troubles, and that people gained an average of 22 pounds in a month after drinking the water."
Miller built his own home and called it Bonnie Crest, and named the streets in Skyland after family members. He drew up a plat in 1887 and divided it into lots (Plat Book 1, page 7, Buncombe County Register of Deeds). Miller's Skyland Springs Hotel was drawn into the first plat, and opened in July 1888 where Rosscraggon Business Park is now located. The orientation of both the Skyland Springs Hotel and Bonnie Crest are shown on an updated Skyland plat drawn in 1889 (Plat Book 1, pages 62 and 63).
"The Bonnie Crest was quite an inn," Samz said. "They had lots of parties, and people came from far and wide to attend them. On July 27, 1899, the Asheville Citizen described a party at Bonnie Crest in honor of Miss Nellie Reeves of Philadelphia and Miss Belle Mayes of Chattanooga. Other attendees came from Cincinnati and New York. After dinner there was a waltz and the ride home in a buggy pulled by four horses complete with a bugle announcing their arrival."
The Mt. Zion Methodist Church was built when Miller was establishing the town of Skyland. "It's still there on the other side of Overlook Road across from T.C. Roberson, but now it's a Baptist church. During the Civil War they had these churches split. After the war they tried to consolidate the Skyland Methodist and the Mt. Zion Methodist Churches so they could all worship at one church. Mt. Zion parishioners refused. Mt. Zion went independent and gradually became the Mt. Zion Baptist Church," Samz said.
The post office was another important part of life in the early Buncombe County communities. Samz said evidence of the importance of the post office may be found in a series of newspaper articles published in July 1898 when an attempt was made to reorganize the Busbee Post Office and the Skyland Post Office, which were only one mile apart.
The postmaster's pay was based on the number of letter cancellations he made. "With two post offices in such close proximity, a bitter rivalry developed, and patrons would drive miles out of their way to give their chosen postmaster support."
The first school in the area was at Mt. Zion Methodist Church. When land was acquired off of Hendersonville Road where Valley Springs Road turns into The Ramble today, a small school was constructed. After another opened at Busbee, but neither was big enough. A bond was passed in 1924 to build a large, modern school. Valley Springs School was built on property bought from Edith Vanderbilt in 1926 at the corner of Overlook and Long Shoals Roads, but it still wasn't big enough. Another bond was passed and the next building was added in 1928.
"A small cannery was built on the Valley Springs School campus in 1937, the first of its kind in the state. It was initially a screened in structure with tables, water pipes, and vats for cooking products. People would bring the crops from their gardens to be preserved. It caught on and other communities started doing it too, and when World War II came along it became very important because that was one of the ways they fed their families." It closed in 1954 when the proliferation of home refrigerators and freezers rendered its function obsolete.
For recreation, Skyland featured a library, a drive-in movie theater, a large baseball field at the school, the Casino that brought in the best of the big bands, the nearby Forrest Amphitheater where popular productions about Daniel Boone were staged, a swimming pool in neighboring Royal Pines, and of course you could catch up on community news and events at Mr. Case's general store.