At Splurge in the River Arts District, shoppers can find an eclectic array of custom designed light fixtures, antique furnishings and unique collectibles such as a Flipper kiddies ride.
"We're redefining what antiques and collectibles are," said Splurge owner Robert Nicholas.
Offering unique and not-so-formal selections creates an enjoyable experience for customers who come in to shop and choose items for their homes and businesses, Nicholas said.
Growing up with a mother who collected traditional fine early antiques, Nicholas said he often heard, "Robert, don't touch! Get away from that, it's antique."
When Nicholas opened his shop, he decided to change this perception of antiques as precious and inaccessible.
A former youth counselor whose life's work used to be managing recreational camps, Nicholas transitioned into a creative direction that he finds rewarding. He designs all the lighting at his shop, using vintage materials such as tobacco stakes that form a framework for illuminative elements.
He got the idea for designing custom lighting after meeting someone who was an experienced welder.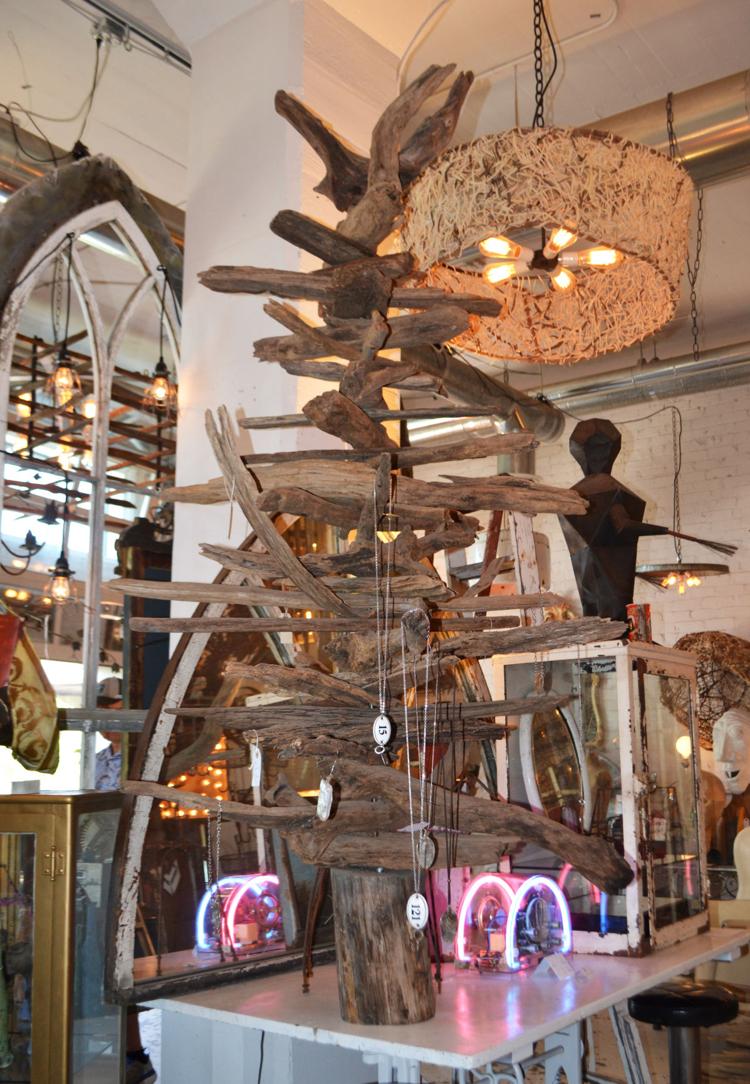 'That's when the creative juices started flowing," Nicholas said.
Some of the large lighting fixtures he designs for ceilings are purchased by local restaurants and breweries as eye-catching features for their customers, Nicholas said.
"They're looking for a rock-star piece," he said.
Glancing up at a blinking arrow sign with multiple lights mounted on a wall, Nicholas said it is a popular choice.
"I've sold a lot of those," he said.
He has also has sold a vintage Howdy Doody mannequin dating from the 1950s children's program and metal miner's baskets suspended on chains. (Miners once used these baskets to hold soap and towels in wash areas, he explained.)
Customers sometimes purchase a special item as a centerpiece for a room, and then build an area around it, Nicholas said.
To acquire such a varied assortment of items for his shop, Nicholas is continuously on the lookout, making frequent buying trips up and down the East coast.
"I keep finding unique things while antiquing," he said. "I cherry-pick … If there's something there, I'll find it. "
The relationship he has developed over the years with other antique dealers also is the basis of many acquisitions, Nicholas added
A massive wooden church window with arches and other details found in late nineteenth century architecture is among recent additions to his shop. In front of the window stands primitive round table, which Nicholas said was a fairly unusual shape for its era.
"I have always loved natural, time-worn antique surfaces," Nicholas said. "Basically, it's the natural wear on an antique that comes from use and love over a long period of time and turns a piece from drab to fabulous."
Nicholas recalled "stumbling" into the antique and collectibles business while hunting furniture for his first home 20 years ago. Once he and his wife, Rebecca, had completely furnished their home, Nicholas said he still had an urge to hunt for treasures. And he continued going to garage and estate sales.
"I have learned over the last 20 years that the rare, unusual, sought-out treasures that I "splurge" on are the first things that sell. I will continue to hold out for the pieces that spaces are designed around and that have stories," Nicholas said.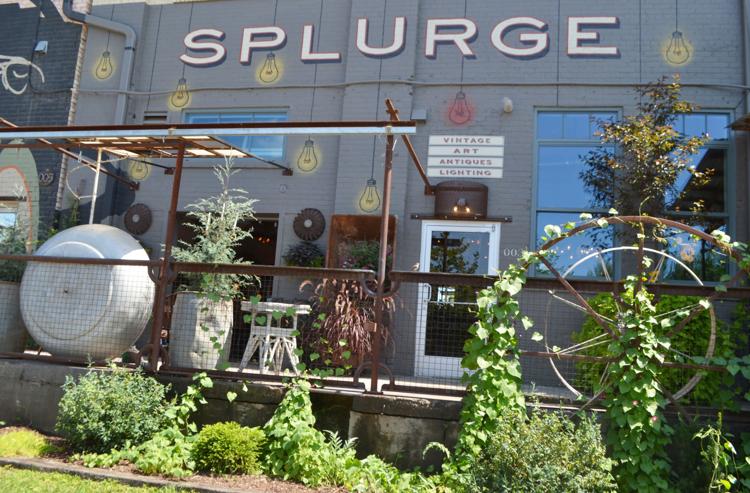 Splurge, 37 Paynes Way, is open to the public Tuesday through Sunday from 11 a.m. to 5 p.m.
In addition to his shop in the River Arts District, Nicholas also operates the Uncommon Market on select days at Asheville Outlets, New Belgium Brewing and the WNC Agricultural Center. The next scheduled market is scheduled for Oct. 6 from 10 a.m. to 5 p.m. at New Belgium Brewing.
For more information, visit the website at www.splurgedesign.com or call 828-545-0707.