A new hotel and restaurant combo brings new reasons to check in, and check out.
The Hilton Garden Inn opens across from the Asheville Outlets with a new restaurant, The Garden Grille, a full service cocktail bar and expansive outdoor entertainment space for locals and visitors alike.
"I can hardly put into words the excitement I feel to open our beautiful, new Hilton Garden Inn," said Brenda Durden, Chief Operating Officer of Asheville Hotel Group. "So much time and attention has gone into making it very special. Our team has worked tirelessly to perfect every detail. I cannot wait to have guests from near and far enjoy this amazing new place."
The 111-room hotel, a project by Asheville Hotel Group, is located at 9 Rocky Ridge Road in Asheville just off I-26 exit 33.
Originally, one of the first Hampton Inns in Western North Carolina, the hotel closed in late 2018 for the complete remodel – a remodel that is finally showing its feathers with vibrant, modern décor splashed with local Asheville flavor.
The hotel will also bring about 35 new employment opportunities to the community.
Couple with updated modern rooms, lobby and more – one of the most anticipated aspects of the hotel is the Garden Grille, a restaurant and lounge featuring a locally sourced menu that serves up breakfast and a casual dinner, as well as a variety of craft beers, wines, and signature cocktails. The restaurant is open for both hotel visitors and the general public.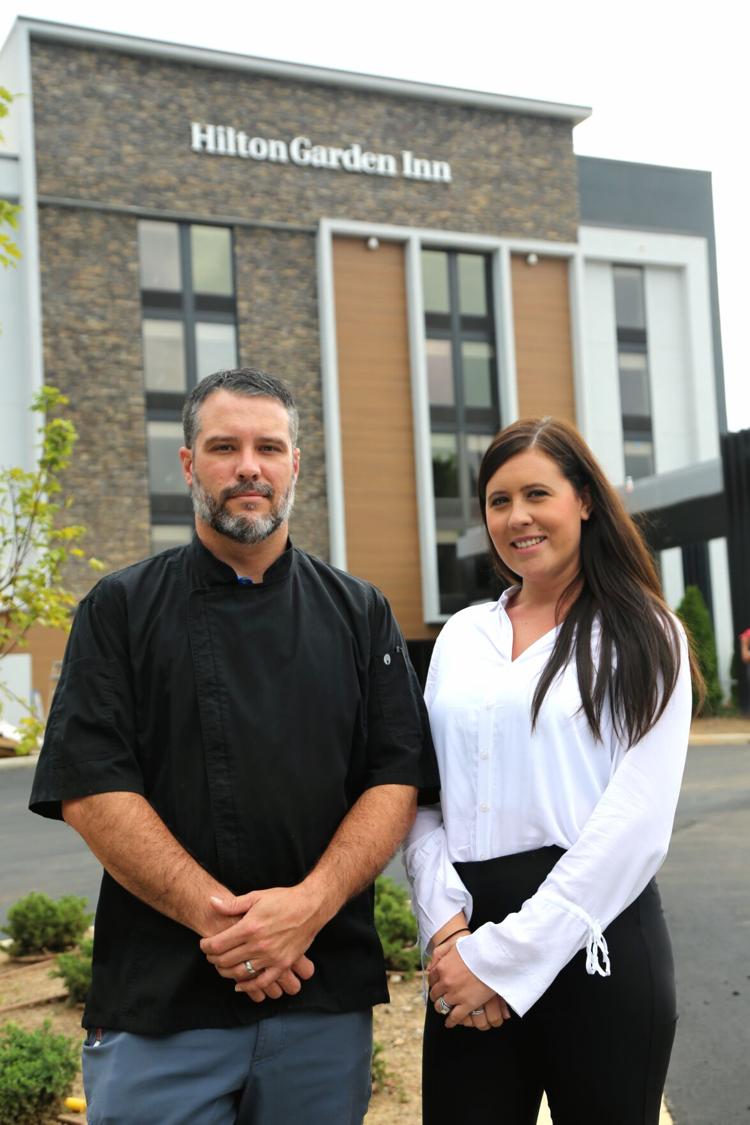 "We are really excited to join the food & beverage community here in Asheville," said Executive Chef Jeff Stanford. "We are always amazing at the culinary and artisan industry here and we are excited to be a part of that."
A 20-year veteran to the Food & Beverage Industry, Chef Stanford was the former National Culinary Director of Bonefish Grill before opening his own food truck and two restaurants in Jacksonville, Florida called The Blind Rabbit. He also pulls inspiration from his culinary work with the world-renowned Commander's Palace in New Orleans.
Chef teams up with his wife and Food & Beverage Director Brittany Stanford to head the new the eatery.
"I think they will elevate this project higher than even we expected," said Andrew DeVane, Asheville Hotel Group Sales Manager. "They bring so much experience – and we are just very lucky to have them."
The hotel has also teamed up with High Wire Brewing for its craft beverage program.
While the restaurant will focus on the elevated eats and drinks, the outdoor space will focus on the entertainment and ambiance.
"It is truly one of the best new things about the project," said DeVane. "We are so excited for guests to be able to come, grab a drink and food and enjoy the space. What better way to spend the fall."
The 2500 square foot outdoor entertainment area features an array of posh seating with multiple fire pits, modern décor and water features.
Asheville's Hilton Garden Inn will also be one of the first newly opened hotels in the brand to introduce the Hilton CleanStay Program, a partnership with RB, makers of Lysol® & Dettol® to help deliver an even cleaner stay for their guests.
"When people stay at the new hotel or have family members come into town – we want to assure them that this is a safe environment," said Ray Anderson, Asheville Hotel Group Director of Sales. " We feel like it is incredibly important during this time to let people know how we are handling things and how thorough we are being as an organization to make sure that people are safe."
The program ensures each room, public and high touch area is deep cleaned and disinfected with hospital-grade cleaners, as well as contactless check-in and digital key entry and more. Find out more about the Hilton CleanStay program at www.hilton.com/en/corporate/cleanstay
For more information on booking, employment and more, visit https://ashevillehotelgroup.com