Located just a 3-mile throw away from downtown Asheville, Axeville Throwing Club has opened its doors at the old Xscapades building location on New Leicester Highway.
A one-stop shop where you can double fist an axe and canned beer, wine, or cider, patrons get an all-inclusive coaching and throwing experience that hits the target for an entertaining — and safe — outing at just $21 per person.
Opened by Amy Zimmermann and her partner, Glen Merchant, in tandem with Merchant's cousin, Ryan McClenny, the venue turned the former exotic bar into a well-engineered space that offers a rustic environment — a departure from the cliche lumberjack vibe of most ax throwing spaces.
Patrons can throw axes, guided by "axperts" who give tips and tricks to help throwers sink their axes into wooden targets (and ensure safety in the throwing lanes); or take a break on a well worn leather sofa in front of a faux fireplace, seated at modern high top tables or around a fire pit out back lounging in Adirondack chairs.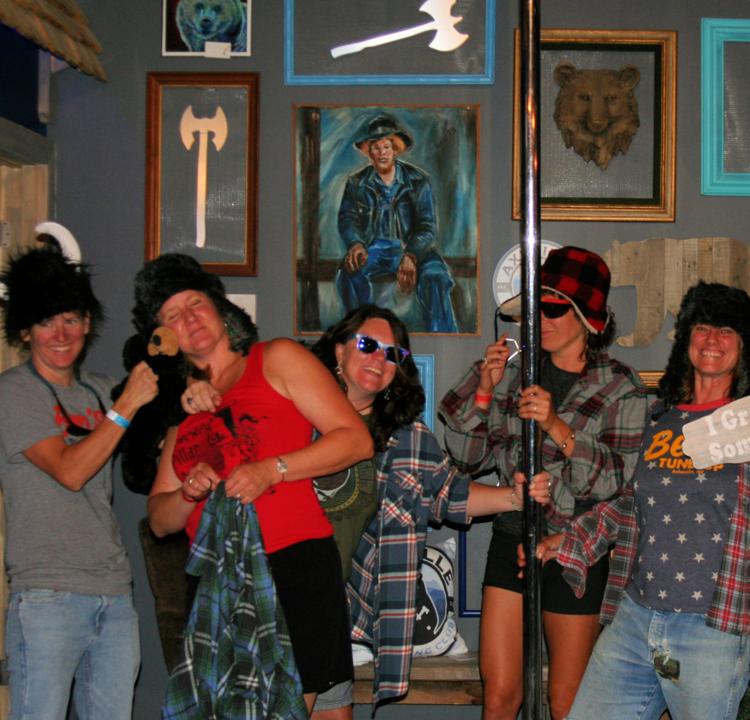 "I've owned my own business and worked in IT for over 20 years and wanted to make a change. I explored zip-lining or rafting, and then started looking at franchise opportunities," said Merchant. "Everything was cleaning, or janitorial, until I ran across an axe throwing franchise called Stumpy's Hatchet House. I kept coming back to the listing and then pitched the idea to Amy. Once she was on board, I took Ryan to an axe throwing place in Charlotte called Lumberjaxe, and he was all in."
The duo spent six months analyzing the best axes to throw, target materials, stances, and angles from which to throw — starting with videoing each other in the backyard, making notes on what stuck, and what didn't (pun intended).
"We found that a wooden target backed by wood is much more functional than metal or concrete wall backings because it absorbs the impact of the axe," said McCleny. "Videos of people having kickback from their throws are either due to the axe, itself — a solid metal shafted axe acts like a spring when it hits something, whereas a wooden shaft like what we have here either loosens or breaks before it can kickback on someone."
The two distilled what they learned from their own experiences to be able to design a functional space where anyone, including their friends and family, could learn to throw an axe safely, and with accuracy.
"There are so many things that can affect your throw," said Merchant, "We have found that one of the largest factors for successfully hitting the target is the distance from the target that you throw. We [axperts] look at that and your form and can pretty quickly give adjustments that will help anyone be able to throw and hit the target."
Despite a year of delays due to construction difficulties, Axeville had a soft opening in February of 2019, followed by its official opening to the public on March 21.
Since its opening, it has been a popular destination for rainy or cold days, adult outings including: date nights, batchelor(ette) parties, and, in the future, throwing leagues and events, and future nonprofit evenings (currently, all unusable wood from broken targets and axe handles are donated to the Edith Allen Wildlife Sanctuary in Canton where it is used as a fuel source to heat animal housing).
"We are working on hosting a 'Glow and Throw' event where the lanes will be illuminated with black lights and fun reflective paints and fun music," said Zimmermann. "We have over 25 canned beers, wine, and ciders, and light snacks at the bar, too."
"We've also thought about a top 16 bracket type of league that results in a final four bracket with a double elimination at the end," Merchant said. "We'd also like to host team competitions like firefighters versus local police, or something like that."
With upcoming events and increased traffic now that locals know the club is officially open for business, Axeville Throwing Club has firmly sunk itself in the entertainment scene in Asheville.
For more information about Axeville Throwing Club, or to pre-register, please visit https://www.axevillethrowingclub.com/.