When event organizer Jason Lottman brought a Great Gatsby themed party to the Biltmore Estate last year, he had no idea that the Asheville community would go crazy for it.
Last year's Gatsby III party, which sold out within a week, offered guests a magical evening in the Amherst Ballroom of the Biltmore Estate, set in the decadent 1920s.
The decadent 1920s party is returning to Biltmore — but this year, the party will be held in the South Terrace, with stunning mountain views at night time.
Interest in the event has been so high that Lottmann will be hosting four separate Gatsby Parties, and tickets are still up for grabs. The first two party nights, March 27 and 28, are sold out, but the Friday, April 3 and April 4 still have spots open. Standard tickets are sold out for Saturday, April 4, but VIP is still available. April 3 is still available.
Lottmann originally scheduled one Gatsby 2020 party on March 27 and it sold out within days. People begged for a second night, so he scheduled another party on March 28. The second evening sold out within minutes and the waiting list was overwhelming.
Lottmann figured it would be best to host two additional parties to give everyone a chance to come. Each party is capped at 800 guests.
"Leaving all these people out would be kind of devastating I feel," he said. "People are looking for opportunities to dress up and experience the glamour of the roaring 20's — even if it is just for one night."
Formal attire is required for the party, and Lottmann expects many guests to attend in period dress.
The Gatsby 2020 party has definitely been upgraded this year, Lottman said.
Upon arrival, everybody gets a tour of The Biltmore House, and then will be led to the South Terrace, where the party will take place under a luxury tent.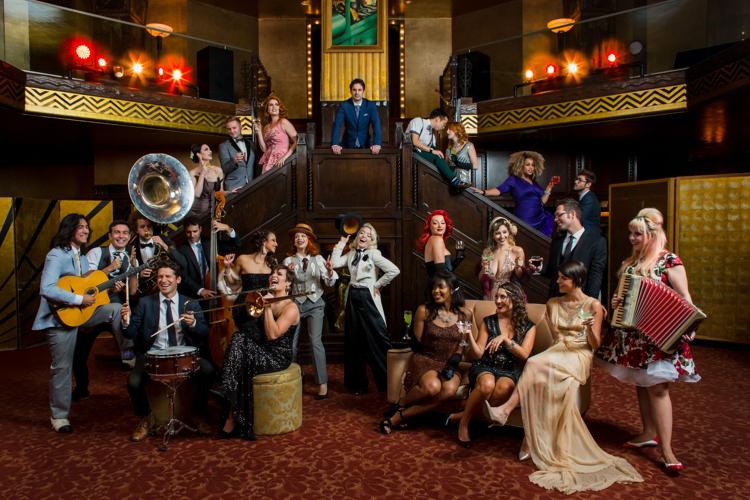 "This year we are doing a lot more entertainment like fire breathers and flapper dancers," Lottman said.
The Gatsby Parties are authentic and detail-oriented. Lottman has worked with Biltmore to arrange a dance floor, period lighting, music, furniture, and other decor to mimic Jay Gatsby's parties.
Lottman was able to book Post Modern Jukebox to perform during the parties. The band plays modern pop songs but covers them in 1920s style.
"That will be a big draw," Lottman said about Post Modern Jukebox. "Last year came across as a 20s theme wedding reception, but this year I want to make it very authentic to the era."
Lottmann is the creator or organizer of the Gatsby Party, and runs the company Star Crossed Artist Group.
Standard tickets are $225 each. All standard Tickets include:
Biltmore House Tour
Gatsby 2020 Entry
Gourmet Hors d'oeuvres and other Biltmore food throughout the evening
A personalized 6x9 Gatsby 2020 ticket keepsake
Professional digital photograph of your group from inside Biltmore House (to be downloaded after the party).
VIP Tickets (non-lifetime) are $495 each and include:
Biltmore House Tour
Gatsby 2020 Entry
Personalized 6x9 Gatsby 2020 Ticket Keepsake
Professional digital photograph of your group from inside Biltmore House (to be downloaded after the party).
Limo Ride to and from the Gatsby 2020 party (we meet at a pick up location before the house tour).
Exclusive access to the Carraway Getaway, a secret room at the party with decadent furniture, more dessert options, additional entertainment by Reverend Horton Heat pianist Matt Jordan, and more.
Your very own VIP access. Avoid the longer line by getting exclusive/quicker access into the event.
To purchase tickets, visit https://thegatsbyparty.com/.