The 64th annual Grandfather Mountain Highland Games will be held Thursday, July 11, to Sunday July 14 at Grandfather Mountain in Linville.
Begun in 1956 by Agnes MacRae Morton, known as "Miz M," the games were introduced, "…to help preserve Scottish heritage and introduce Scottish culture to countless thousands."
"She [Morton] was much more than cofounder of these Games. For the first 27 years of their existence, she kept her hand on the pulse of the Games. She was their motivating power, their guiding light," said Rev. Gammon at a dedication ceremony in her honor at the 31st Highland Games.
Attendees at the 64th games will be able to enjoy traditional bagpipe music, athletic events including the Grandfather Mountain Marathon, contemporary Celtic rock and cuisine, border collie sheepherding, highland dance, and a Scottish Cultural Village with demonstrations, wares for sale, and Clan history and genealogy.
"This particular Highland Game is one of the more similar games to the ones you find in Scotland," said former pro class heptathlete, Beau Fay, of Arlington, Virginia. "The setting and environment are very similar, and Grandfather Mountain honors the traditions of having both a heavy and light class for athletic events – the heavy class includes the heptathlon events, and the lighter class includes things like the high vault."
The event begins Thursday afternoon with sheepherding demonstrations, music, and the running of "The Bear" — a 5 mile uphill foot race that begins at the base of Grandfather Mountain up to the Swinging Bridge near the peak of the mountain, which sits at just over 5000 feet of elevation. The day concludes with the annual torch lighting ceremony in The Meadows and the raising of the clans where over 100 clans announce their participation in the games.
While traditional Highland Games in Scotland includes cycling – often on wet grass – the Grandfather Mountain games stay true to the time honored traditions of a marathon, track events including vaulting and sprints, and the heavier class athletic events.
Heavier class events include throwing of a 16 pound shot putt, one-armed throw of a 28 pound and 56 pound weight for measured distance, 22 pound hammer throw, sheaf toss over an elevated cross bar, caber (large pole) toss, and a one-armed 56 pound weight throw for measured height.
Additionally, the Games host a youth highland wrestling clinic and competition, foot races, and tug- of- war battles — all of which can be registered for in advance online or at the games, themselves.
As the athletes compete and border collies herd, piobaireachd competitions will provide a soundtrack of whistles, commands, and the ever present bagpipe in the background throughout the event.
"Piobaireachd refers to pipe music, but it's the traditional music of the Highlands – competitors are judged based on the expression of their music, the variations they play, and timing. It's different than bagpiping in a march because piobaireachd performers generally wander – their walking formations aren't as intentional," says judge, Deb Houston.
In addition to traditional Celtic music, other performers include: Seven Nations, Nic Hudson, Brother Angus, Wolf Loescher and Blue Ridge Bass, Alasdair White, Ed Miller, Chambless and Muse, Mari Black and Piper Jones Band.
Featured activities this year include: Whisky Tasting, the Atlantic International Highland Dance Championship Competition, History and Geneaology Studies at Clan Tents, the history of Nessie: The Loch Ness Monster, and Kilting 101.
Adult admission to the Grandfather Mountain Highland Games is $15 Thursday, $20 Friday, $30 Saturday and $15 Sunday. Tickets cover all activities in the meadows, which last from early morning to midnight Friday and Saturday. Tickets are $5 each day for children ages 5-12, and children younger than 5 enter free.
Tickets for Thursday night's opening ceremonies are $15 for adults and $5 for children ages 5-12. Tickets for the Celtic rock concert only (no Friday Games activities) are $15 for adults or $5 for children (ages 5-12). The Saturday night concert is also $15 for adults and $5 for children (ages 5-12). This does not include admission to the Saturday Games activities.
Tickets purchased on site must be paid with cash, and credit cards will only be accepted at the Games' main entrance gate.
Four-day passes are also available by calling (828) 733-1333. Adult passes are $75 (including shuttle), and children's passes are $30 (also including shuttle).
Parking is available at the Games on Thursday and Friday on a first come, first served basis, with overflow parking at shuttle lots in Linville Friday only (no shuttle buses run on Thursday). Public parking is not available at the Games on Saturday and Sunday.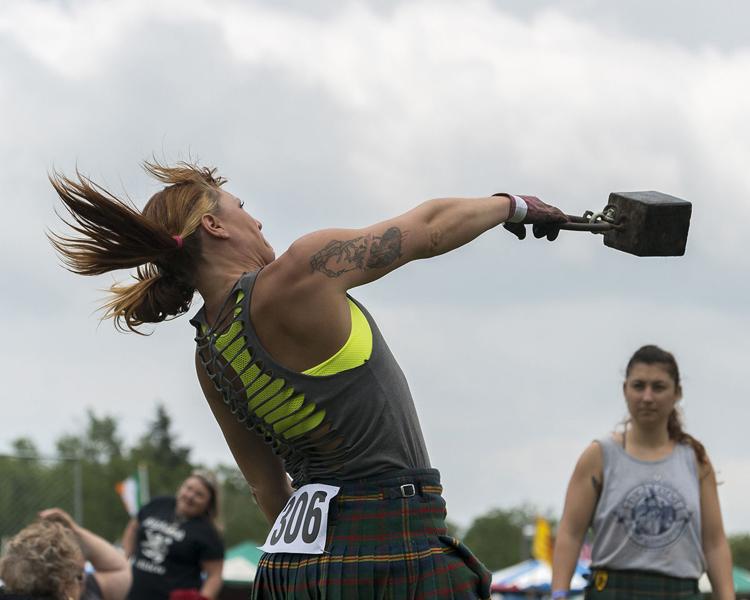 Shuttle service is provided for a fee between MacRae Meadows and satellite parking areas in Linville, Newland and Boone. Shuttle fees vary depending on the distance between the lots and MacRae Meadows, costing $5 for Linville and Newland and $10 for Boone.
To learn more about the history of the Grandfather Mountain Highland Games, or to get involved, please visit gmhg.org or call 828-733-1333.
For a full schedule of events, visit www.gmhg.org/events.htm.
The venue at MacRae Meadows, is off U.S. Highway 221, two miles north of Linville, and one mile south of the Blue Ridge Parkway at milepost 305.