As customers came into Geraldine's Bakery on a recent morning, owner Fred Dehlow and two other bakers were rolling out and cutting pastry dough in the kitchen.
At the front counter, Dehlow's wife, Rosemary, was helping customers make choices from a large selection of fresh baked goods.
"Everything is always so fresh," Rosemary said of the selections ranging from breads to doughnuts, coffee cake, croissants and bagels.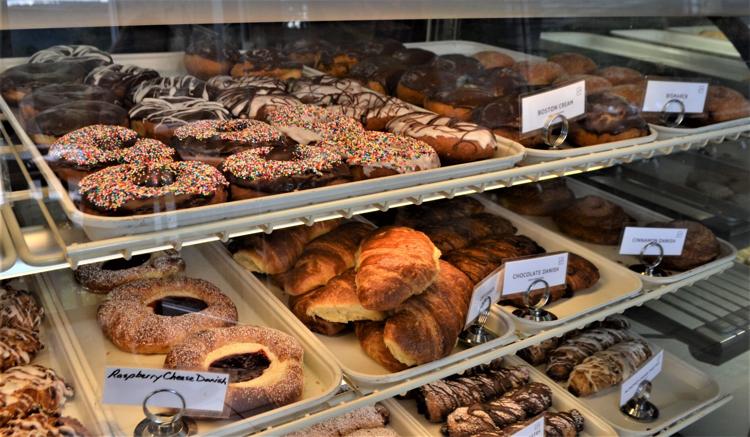 Like Fred, all of the bakers who work at Geraldine's have many years of experience.
"They're really skilled … (and) really do know what they're doing," Rosemary said.
"Fred has been a baker for life," she added.
Fred learned the bakery business from his father, Karl-Ernst, who emigrated to this country from Germany where he learned the art of baking as an apprentice in post-World War II Berlin. After settling in New York, Fred's father established a bakery in Long Island with his wife, Geraldine, whom he met in this country.
Rosemary has worked in a bakery since she was a teenager. She and Fred became acquainted while she was working at his father's bakery.
Fred owned and managed his own bakery in Long Island for many years after marrying Rosemary and starting a family of three children.
After living in New York for most of their lives and eventually retiring, the couple discovered Asheville while on a cross-county motorcycle trip. They fell in love with the Western North Carolina city and moved here seven years ago.
In 2013 Fred decided to re-enter the bakery business and found one for sale in Asheville.
He bought the bakery and named it in honor of his mother, Geraldine, who grew up in an orphanage in Thomasville, North Carolina.
Since then the couple has been working together to make the business a success as an old-fashioned, neighborhood bakery.
"We wanted to have a place that's nostalgic," Rosemary said. "I really try to get to know customers and feel like we're almost family."
Some customers come into Geraldine's looking for certain favorites pastries such as eclairs, Boston cream doughnuts and "cigars" filled with almond paste, she said.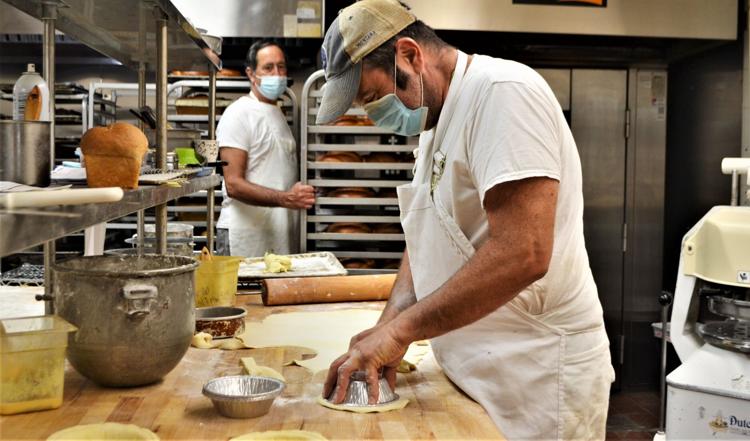 "This is food for your soul," Rosemary remarked.
The bakery also has selections of cookies, savory treats and breakfast sandwiches and New York rugelach.
"We have 35 to 100 different items on a given day," Rosemary said.
The bakery also offers new items such as the Fritzer, a fried yeast doughnut with a crispy coating.
One aspect of having a bakery in Asheville—to which the Dehlow's have had to make adjustments—is that many people here are health-conscious, Rosemary noted. Instead of placing large orders for pastries or whole cakes, customers often opt for smaller portions when making selections.
"Here they want smaller items," she said.
In addition to preparing goods for individual customers, Geraldine's also serves many local restaurants with breads baked in its kitchen. The bakery also makes challah bread for the Asheville Jewish Community Center, as well as selling it in the bakery.
Connecting with the Asheville community is important to Fred and Rosemary, who has an extensive background as a social worker focused on helping homeless people.
While the bakery was closed during phase one of the COVID-19 pandemic, the Dehlows donated fresh bread to workers at Mission Health. And they support local charitable organizations.
"North Asheville is a wonderful, close-knit, caring community," Rosemary said.
Geraldine's Bakery, at 840 Merrimon Ave., presently is open daily from 7 a.m. to 1 p.m.
For more information, visit the website at https://www.geraldinesbakeryavl.com or call 828-252-9330.