F. Scott Fitzgerald's popular novel "The Great Gatsby" will come to life in Asheville on March 30. Biltmore Estate's new Amherst Ballroom will be the venue for the party, and 600 guests are expected to attend.
Event creator and organizer, Jason Lottmann, says he will give guests "a magical evening" with glimpses into the decadent 1920's lifestyle. Flapper costumes, Art Deco furniture and antique cars available for 'selfies' might be seen around Biltmore on Saturday. Formal attire is required for the party, and Lottmann says he expects many guests to attend in period dress.
This will be the third Gatsby party hosted by Lottmann through his company, Star Crossed Artist Group. Prior events were held in West Virginia and Charlotte. Those events were so popular that tickets for the Gatsby III Party in Asheville sold out within a week.
"We had more than 14,000 views on our event page in the first four days that tickets were available," he said. Lottmann took this as an indication that people are looking for opportunities to dress up and experience the glamour of the roaring 20's — even if it is just for one night.
The Gatsby Party idea started in 2016 in Fairmont, West Virginia. Lottmann moved from Florida to follow a young lady he hoped to date. Lottmann knew The Great Gatsby was her favorite book. Hoping to impress her with his cleverness and sense of adventure, he planned to surprise her with a themed party at a local coffee shop. Word spread of the party idea. The coffee shop venue was scrapped for Highgate Carriage House, and 300 people attended. The girl who inspired the event, however, was not one of them.
"To be fair, I don't think she knew the party was for her," he said.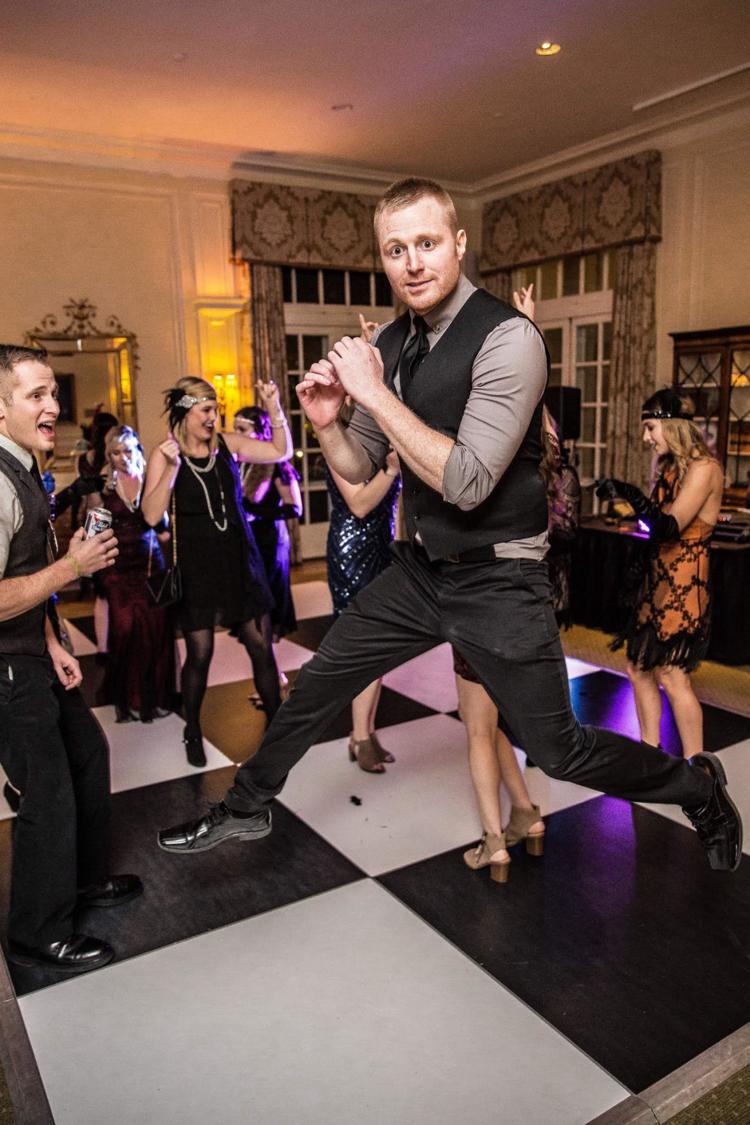 Lottmann moved to Charlotte and planned his second Gatsby Party at the Duke Mansion. He said Asheville was a natural choice for the Gatsby III Party because of its connection to Fitzgerald and the grandeur of the Biltmore Estate.
Fitzgerald came to Asheville in the summer of 1936 to help transfer his wife, Zelda, to nearby Highland Hospital. He lived for a time at the Grove Park Inn.
Lottmann says his events are authentic and detail-oriented. He has worked with Biltmore to arrange a special dance floor, period lighting, music, furniture, and other decor to mimic Jay Gatsby's parties. The website, thegatsbyparty.com, lists quotes from guests who have enjoyed the previous parties. Some who have attended the first two parties plan to travel to Biltmore to attend their third.
Guests may vie for the "Gatsby and Daisy" trophy awarded to the couple who shows the most enthusiasm leading up to and during the event.
For the upcoming Gatsby party in Asheville, guests were offered a choice of ticket levels beginning with a basic ticket at $139 per person.
'Nick Carraway,' and VIP upgrades were available. Carraway tickets include a private tour of the Biltmore House before the party, souvenir glass and tickets to a drawing for autographed photos of Leonardo DiCaprio and other stars of 2013's The Great Gatsby movie. Carraway tickets were priced at $80 above the basic ticket price.
A basic ticket plus $240 bought guests a VIP — "The Gatsby Choice" — ticket upgrade. These tickets include everything in the Carraway package plus a limo ride to the Biltmore House for the tour, on to the party, and back to their cars at the end of the evening.
Lottmann added a professional photo shoot on the Biltmore grounds after the Biltmore House tour. VIP ticket holders will have access to a "secret" section of the party, called The Carraway Club, with private waiter and bar staff, special food and drink options, luxury lounge-style furnishings, shoe shiners, a massage parlor for shoulder, next and back massages, and a private club pianist and/or string duet who will play all evening.
Lottmann says plans are already underway for another themed event at the Biltmore Estate for New Year's 2020.