Futo Buta owner and chef Michael Shortino was checking with kitchen staff and talking to guests at his new restaurant during a recent preview event before its opening in downtown Asheville Nov. 11.
As servers brought out plates filled with ramen dishes and beverages to sample, Shortino made his way through the warm-toned restaurant with its eye-catching art work and bright sounds of rock 'n' roll music playing in the background.
"I'm ecstatic about opening in Asheville. To tell you the truth, it's my favorite project that I have ever done," said Shortino. "The first time I visited Asheville, I was like this is perfect. This is it. This is ramen country."
Shortino opened his flagship Futo Buta restaurant in Charlotte five years ago after moving to North Carolina from Arizona. He later decided to venture into the Asheville area, which he now calls home.
"Everything that I was making in Charlotte I sourced from Asheville, so really I am just bringing Futo Buta home," Shortino said.
To create the Japanese dishes he was serving at his restaurant, Shortino was using meats from Hickory Nut Gap Farm in Fairview and serving foods in handcrafted clay bowls made by potter William Baker in Bakersville.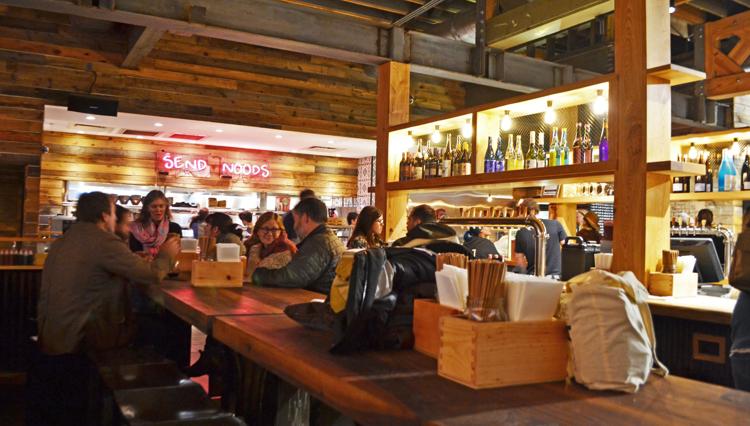 Items on the menu at Futo Buta feature authentic Japanese cuisine such as ramen and sushi, and an extensive selection of sakes. To develop and refine his craft, Shortino has traveled extensively in Asian countries.
"All of these ramen restaurants are different, and I have my own style," said Shortino. "But when you eat a proper ramen, the thickness and the richness of it should coat your lips."
This richness can be tasted in Shortino's favorite menu item, the Buta Bowl made with handmade noodles, chicken and dashi broth, double noodle, pecan smoked pork belly, onsen egg, duck confit, spicy ground pork, ono chili sauce, sweet white corn, roasted and julienne leeks, scallions and cayenne pepper threads.
All ramen noodles are made in-house with organic red winter wheat flour grown in North Carolina. To make 20 gallons of chicken soup, Shortino uses 475 pounds of whole chickens that are simmered for two days. Broths also are cooked slowly for thickness and richness of flavor.
"What I love about ramen is the same thing that I love about the Japanese culture itself," Shortino said, discussing his choice of cuisine. "It's their traditions and their level of integrity for everything that they do."
A third-generation chef from upstate New York who followed in path of his father and grandfather, Shortino gained notoriety after moving to Arizona where he opened the first international London-based restaurant, Roka Akor, in Scottsdale.
Before establishing his new restaurant in Asheville, Shortino spent four years searching for the right location. He finally found a good space on Biltmore Avenue in the heart of the thriving downtown district.
Like the Charlotte restaurant, the sound of rock'n'roll is a constant at Futo Buta in Asheville.
"It's the music I like—and I'm here 15 hours a day," Shortino said with a smile when asked about it.
Joining Shortino's ramen shop is a satellite bar for Resident Culture Brewery based in Charlotte.
"Our partnership has become this wonderful pairing and culmination of friendship, beer and ramen," said Amanda McLamb, Resident Culture co-owner. "We also both have a bit of a counter culture vibe that celebrates not taking things too seriously."
Futo Buta, 121 Biltmore Ave., is open Tuesday — Friday from 11a.m. to 10 p.m., Saturday from 11 a.m. to 11 p.m. and Sunday from noon until 10 p.m.
For more information, visit the website https://futobuta.com/asheville.