Executive Chef Randy Dunn has blended his culinary skills and years of experience into a recipe for Fork Lore Storied Food and Spirits at the Hilton Asheville Biltmore Park.
After 11 years as chef for the former Roux in the same space, Dunn developed the concept for transitioning to Fork Lore, said Emily McCollin, marketing manager for Biltmore Farms Hotels, which owns the restaurant.
"We felt it really aligned with his chef's vision," Dunn said of the re-branded restaurant.
Many of the dishes that Dunn creates are re-imagined versions of his Tennessee grandmother's recipes she created with ingredients from her garden.
"I love telling stories, and creating delicious food for someone is a natural way of story-telling for me," Dunn said.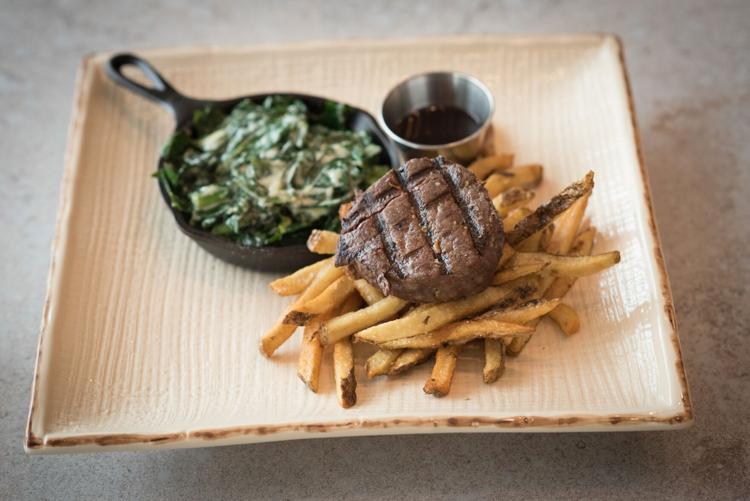 Dunn works with area food vendors such as Hickory Nut Gap Farm and Three Graces Dairy to use as many local ingredients as possible at the restaurant.
"Fork Lore was always meant to be inspired locally, sourced locally, and enjoyed locally," Dunn said. "Due to our county and state's current restrictions, I think this has become the perfect time to share the new restaurant concept with our neighbors."
Fork Lore opened in March with a menu that includes popular items previously served at Roux, plus innovative versions of traditional offerings such as Dunn's new wedge salad.
"He is a very creative person. He loves to use his imagination," McCollin said of Dunn.
"We have a plethora of options."
Entrees on the summer menu at Fork Lore include Scottish salmon, smothered Jack chicken, Ahi tuna and cauliflower steak, all of which are served with two choices of side dishes.
Sandwich options include the Caprese made with grilled chicken, balsamic portobello or blackened Ahi with fresh mozzarella, baby spinach, roasted tomatoes, pesto aioli and focaccia, the bacon cheddar Brasstown smash burger and a turkey club with Mrs. Clair's Spicy Apricot Marmalade.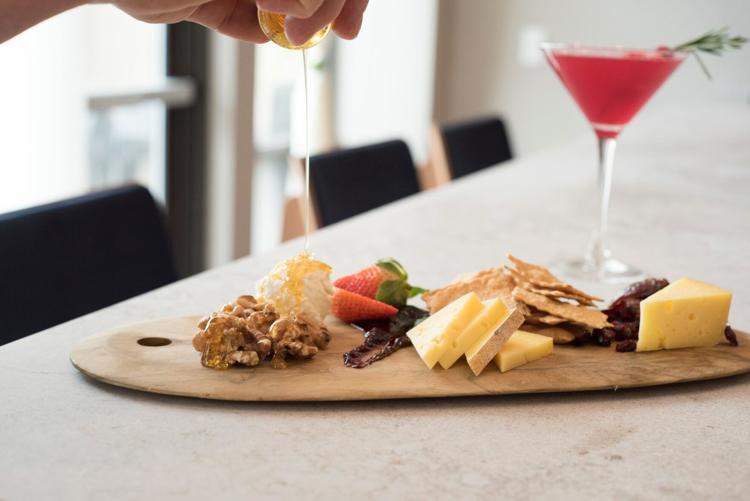 Breakfast diners have choices that include buttermilk pancakes, a Greek yogurt bowl, Irish steel-cut oats, a broken egg sandwich and a keto breakfast bowl with chorizo, spinach, mushroom, feta cheese, three eggs any style and grilled avocado served with potatoes or cheese grits.
Dessert items include chocolate ganache layer cake, crème brûlée ceesecake and Devonshire carrot cake.
Fork Lore also has a full bar with wines, beer, spirits and cocktails made with local liquors and ingredients such as the Vanderbilt Vale made with Bulleit Rye Whiskey, Eda Rhyne Fernet and orange bitters.
Like other local restaurants, Fork Lore has extensive health and safety precautions in place as directed the state COVID-19 order, while also following guidelines established by Hilton and Biltmore Farms management.
After months of offering take-out service, the dining room opened to the public in July with a limited menu that includes Roux favorites along with new items.
The restaurant continues to offer take-out and catering service.
"At some point, we hope to have a grand opening," McCollin said.
As a locally owned, independent restaurant, connecting with the community is important, she said.
"I hope people will gather here, share their stories, and find meaningful social interactions – all built on the foundation of a good meal and safely distanced, of course," Dunn said.
Fork Lore Storied Food and Spirits, at 43 Town Square Blvd., Biltmore Park Town Square, is currently open daily from 7:30 a.m. to 9 p.m.
For more information, visit the website at www.forkloreasheville.com or call 828-209-2715.