A chance encounter with a honeybee in Manhattan inspired Matthew Willey to bring together the power of art and the strategy of activism for a greater cause. He was painting in his New York City studio 11 years ago when he noticed the docile insect had landed on his carpet.
"She was slowly walking across the floor, and had a puppy like cuteness with her big eyes and fuzziness, so I brought out my magnifying glass and decided to hang out with her until she walked what turned out to be the last two inches of her life," he said.
Willey was moved to investigate honeybees on the Internet, and discovered colony collapse disorder, the sudden and enigmatic mass disappearance of the majority of worker bees in a honeybee colonies. When Willey tells children that without honeybees there would be no chocolate, it gets their attention.

With one out of every three mouthfuls of food in the American diet in some way a product of honeybee pollination, this potentially places our food supply in serious jeopardy. Although no single cause has been identified for the devastating decline in honeybee populations, contributing factors are thought to include pathogens carried by mites, indiscriminate use of pesticides, loss of habitat and climate change.
"I came across a behavior of the honeybee termed 'altruistic suicide' where if a honeybee feels sick it will remove itself from the hive so it doesn't infect its healthy members. They are hardwired to understand that their immune system is collective. It's not based on any individual bee; it's based on the health of the hive. In that moment I realized being in New York among eight million people I was so much more connected to these other people than I ever thought. They're the same as us."
Another interesting behavior has to do with navigation. "They can communicate to the hive by dance where within three miles the best flowers can be found. They utilize the iron content in their heads and the position of the sun, and can adjust their dance based on the time of day," Willey said. The lifecycle of a honeybee is generally only five to six weeks long.
Willey has painted murals for the past 26 years. As he learned more about honeybees, he was compelled to use his skills to help bring awareness to the global importance of honeybees.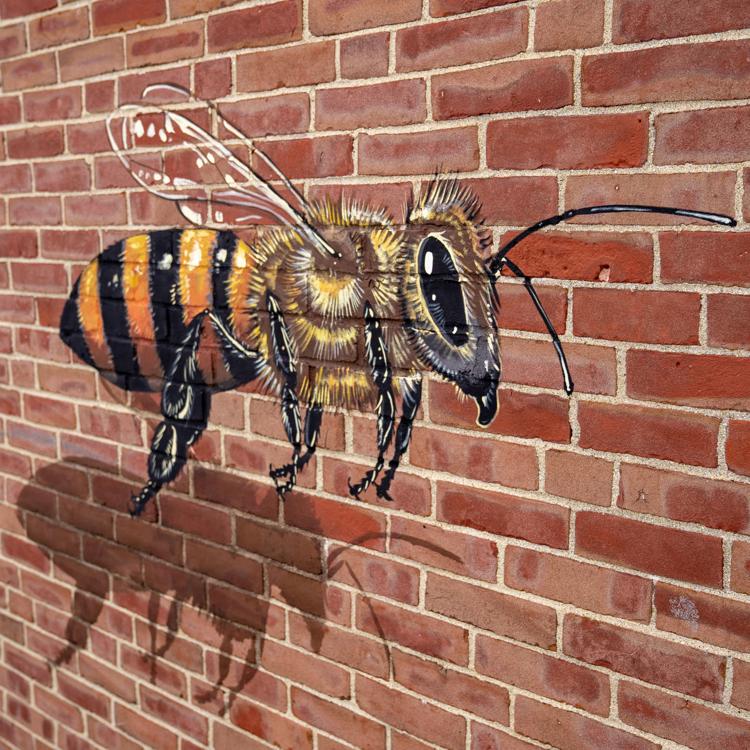 "A friend sent me a video about the Harold P. Curtis Honey Company, a small fifth generation family owned business in Labelle, Florida. I called them and asked if they'd like a mural with honeybees on the side of their building."
Curtis Honey Company said they would, but they had no money to pay Willey, and murals were illegal in Labelle. Willey told them that if they could get the law changed he would figure out a way to fund the 10-week project. Two months later they called to tell him they got the law changed, and Willey launched a fundraising website named "The Good of the Hive" that attracted $500 in donations.
Food and lodging was generously provided for Willey, and gradually more donations materialized from small businesses and local beekeepers. As Willey worked on the mural both locals and tourists passing through Labelle stopped to comment, ask questions and share stories about their personal encounters with honeybees.
"On the mural site, someone asked to have a refreshment stop for cyclists riding across the state to raise money for hungry children. The producer of that ride came walking up to me with this little honeybee perched on his shoulder like a pirate with a parrot. He said the bee told him to come and talk to me. He asked me how many honeybees make up a healthy hive."
Just the day before, Willey had learned that a healthy hive has 30,000 to 60,000 bees. The event producer asked Willey if he thought he could paint 50,000 honeybees. To date, he has painted 21 murals with over 5,000 individual honeybees so far.
The Great Ape House at the Smithsonian National Zoo is Willey's current canvas. While the project is paused waiting for winter to pass, he is focusing on speaking engagements, pop-up art shows, and concerts.
On March 22 he will present "Colony Expanse," at Heron Mark Tattoo & Gallery in West Asheville. This interactive art installation previously appeared in collaboration with World Council of Peoples for the United Nations and the Smithsonian's National Zoo.
The Good of the Hive director of media and logistics Zach Ellis said their mission is to translate the energy and effectiveness of a mural to create a platform for conversation about slowing down and paying attention to detail in a playful and engaging way.
"Bringing real raw data to people can be overwhelming. These events are specifically designed not to ignore those data, but to present it in a way where it is catalyzing people across all demographics to make the changes they can," Ellis said.
"We want people to approach at their own speeds," Willey said. "We're bringing art into these rooms so that people can look at the art and think about for a minute rather than being blasted with information about how scary it is. Constructive change can be as simple as planting flowers that don't require the use of pesticides, or to change the aesthetic for an entire town from green lawns to yellow and green dandelion dots – make that the new beautiful."
Anthropologie women's apparel on North Lexington Avenue downtown will be featuring Willey's laser cut honeybees on wood panels in their windows and on their building for Earth Day, as will Rockefeller Center in New York City.
The "Colony Expanse" presentation will be at Heron Mark Tattoo & Gallery, 290 Haywood Road on March 22 from 6:30 p.m. to 9 p.m. The event will include tattooing, live music provided by Bob Strain & Friends, free beer from Bhramari Brewing Company, and a honeycomb tasting.