The rafting and tubing business is booming in and around Asheville as people head to the river to cool off and enjoy the riparian scenery.
Friends and families are spending mornings and afternoons floating down the French Broad and other area rivers, sometimes accompanied by their dogs and coolers, if permitted.
Staff at outdoor outfitters are busy handling reservations for trips, shuttling guests to and from the river—and cleaning equipment and vehicles to help ensure their safety in the midst of COVID-19 concerns.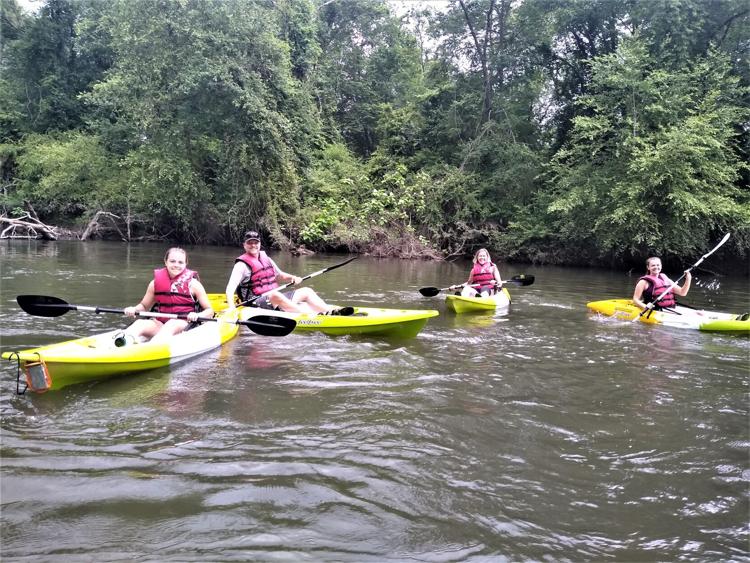 This season a major change for outfitters is that most are requiring reservations in order to control the number of people in proximity to each other at a given time. People no longer can just show up at outfitters, rent a raft, tube or kayak and head down the river.
"We have had to make a lot of changes this year for sure due to (COVID-19)," said Jennifer Ditzler, owner of Zen Tubing.
"In May and June we had a reservation system built since, in years past, we ran on a first-come, first-served basis."
Although requiring reservations has the benefit of reducing the interaction among guests and staff, it does severely limit the number of participants that can be accommodated, Ditzler said.
Zen Tubing is also socially distancing guests on vans and buses, which are not filled to capacity, she noted. And tubes, life jackets, and van/bus seats are sanitized after each use.
"High-touch areas and spaces, such as office counters, changing rooms, and restrooms are sanitized frequently and routinely," Ditzler added. "We also provide personal protective equipment and training to our employees for the safety of themselves and our guests."
Zen Tubing has two locations in Asheville, one on Brevard Road near the North Carolina Arboretum, which is open daily, and another on Riverside Drive that is currently open Monday and Friday. For more information and to make reservations, visit the website at www.zentubing.com or call 855-936-8823.
French Broad Adventures in Marshall has also made significant changes to its management of whitewater rafting and calm water float trips, with required reservations, limited capacity on shuttles and extensive sanitizing measures in place. Also, guests are required to wear masks on the buses, but not while rafting.
Limiting capacity to 50 percent occupancy on buses does mean that fewer people can sign up for trips, said Jan Wojtasinski of the Nantahala Outdoor Center, which operates French Broad Adventures.
"It's been hard to get reservations," Wojtasinski said of the French Broad River trips. "We've been full the majority of the season."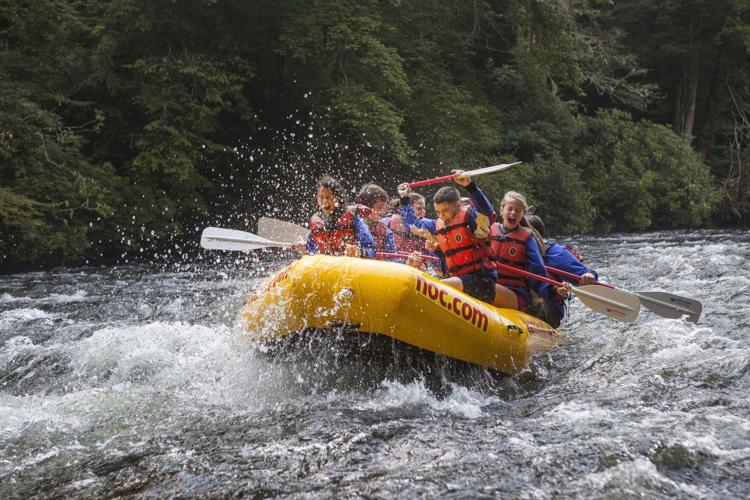 An option with more availability is at the Nantahala Outdoor Center in Bryson City, Wojtasinski said.
Along with guided rafting trips on the Nantahala River, this outdoor center offers a Mountain Top Zipline Tour in the Nantahala Gorge. People can plan a day trip to Bryson City and enjoy both rafting and a zipline adventure, he said.
Because the flow of the Nantahala River is controlled by a dam, the rafting experience is more consistent than on the French Broad, which is a free-flowing river with fluctuating water levels and currents, Wojtasinksi noted.
French Broad Adventures and the Nanthahala Outdoor Center offer full and half day rafting trips. For more information, visit the website at www.noc.com or call 828-785-5082.
Another river experience can be found at Lazy Otter Outfitters in Mills River, which offers a 7-mile paddle to Westfeldt Park on the French Broad River in kayaks and canoes, as well as other trips.
"While this is part of the French Broad River, it is less crowded," said Matt Evans, owner of Lazy Otter Outfitters.
As with most other outfitters, reservations are required for self-guided float trips. And COVID-19 precautions are in place.
A maximum of four people may be booked online for a trip to allow sufficient spacing while in the shuttle bus.
And staff are cleaning and disinfecting paddles, life jackets and boats between use, and wiping down surfaces in the bus.
As another precaution, all participants are asked to get themselves in and out of the kayaks without assistance to minimize contact with staff.
For more information visit the website at www.lazyotteroutfitters.com or call 828-756-1386.