A Fletcher area woman was surprised with a Publishers Clearing House cash prize on Wednesday afternoon.
Dave Sayer and Howie Guja, of the Publishers Clearing House Prize Patrol, traveled to the area to award Webster with $45,400 or a Ford Edge ST. L. Webster, who did not want her fuirst name to be released, opted for the money instead of the vehicle.
Webster said the money could not have come at a better time for her.
"If I had 10 minutes notice, I would have brushed my hair," Webster said upon answering the door in her wheelchair. "Honestly this is huge. I'm going to use this for renovations. I'm re-doing my house. I live alone and do all my own housework. I'm just overwhelmed."
Webster, who was getting ready to mop before answering the door, added that she was looking forward to purchasing a new bathtub, a new toilet and get a new puppy.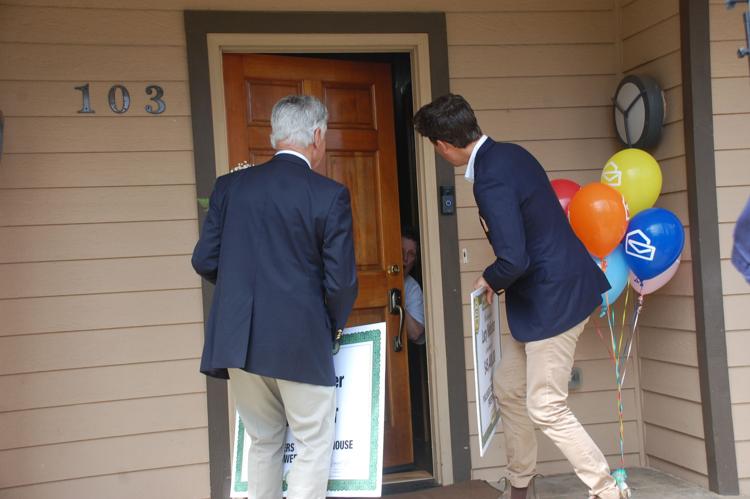 Webster, a 59-year-old retiree, recently entered the Publishers Clearing House Sweepstakes, which is a hobby she describes as a nervous tick she does out of habit on a regular basis.
"Some people chew gum as a nervous tick, or when they're doing other things, but I just flip my phone open and enter. It pays off," Webster said. "I just finished entering one today. It's not a waste of time."
Winners have no idea they've won until the Prize Patrol greets them at their door with champagne, balloons, roses and the check.
The Prize Patrol is a team of PCH employees headed by Dave Sayer, Executive Director and Todd Sloane, Senior Vice President. The Prize Patrol travels across the country awarding prizes of $10,000 or more to lucky PCH winners.
Prize Patrol members are easily recognized by their blue jackets with official Prize Patrol badges on display. They arrive in the famous PCH Prize Patrol van — champagne, flowers, oversized check, balloons in hand — and present big cash sweepstakes prizes, in-person, to unsuspecting winners.
Webster, who was joined by her two dogs, greeted the Prize Patrol at her front door and broke down in tears.
"My kids are going to go crazy," Webster said. "They've always scoffed at me for playing this."
Webster also plans to use her winnings a new wheelchair, some plants and other needed items.
Yes, it's real
The Publisher's Clearing House moments you see on TV are real.
They are filmed at the actual moment they award the prize — totally unrehearsed and completely un-staged. They don't notify winners who will be visited by our Prize Patrol in advance; we simply knock on their door with the video cameras rolling. If the winner is not home, they go to great lengths to find them — at work, at play, on vacation — and rarely have to make a return visit. The famous "Publishers Clearing House Winning Moment" is reality TV at its finest, and our winners are the stars.
The famous Prize Patrol from Publishers Clearing House is renowned for awarding over $483million dollars in prizes to people nationwide.
There is no purchase or fee necessary to enter and win the Publishers Clearing House Sweepstakes. All entries have an equal chance of winning and buying won't help you win.
Publishers Clearing House is a multi-channel marketer and all prizes are funded by company revenues derived from the sale of merchandise and magazine offers and partner advertising on our online properties. Funding the sweepstakes is an expense of running the business, just like advertising or promotion costs are considered an expense.
The odds of winning depend on the prize offered and how many entries we receive. The odds of winning PCH online gift card giveaways from $5 to $50 are estimated to be 1 in 223. Some giveaways, such as our "first name" or "initials" contests have odds of winning estimated at 1 in 80,000.
PCH SuperPrizes tend to have odds of winning in the hundreds of millions. The estimated odds of winning are listed for each giveaway promoted in the Sweepstakes Facts included with every sweepstakes communication.
How does one enter the Publishers Clearing House sweepstakes? You may enter by mail or online. To enter by mail, simply respond to one of the PCH Bulletins mailed to you. To enter online, go to http://pch.com/.