The 19th Annual Lake Julian Festival of Lights will return on Nov. 30 — and this year, Buncombe County Recreation Services is hosting two of the wildly popular walk-through evenings.
Come out on Nov. 30 or Dec. 1 at 5 p.m. to enjoy a Lights By the Lake Stroll. Attendees need to specify the date you are coming when you purchase your ticket.
During the stroll, guests will be immersed in a unique holiday experience as they are able to walk through the tour by foot. This is the only night to experience the light show from the perspective of a stroll through the festival. The festival can be enjoyed by vehicles only Dec. 3-23.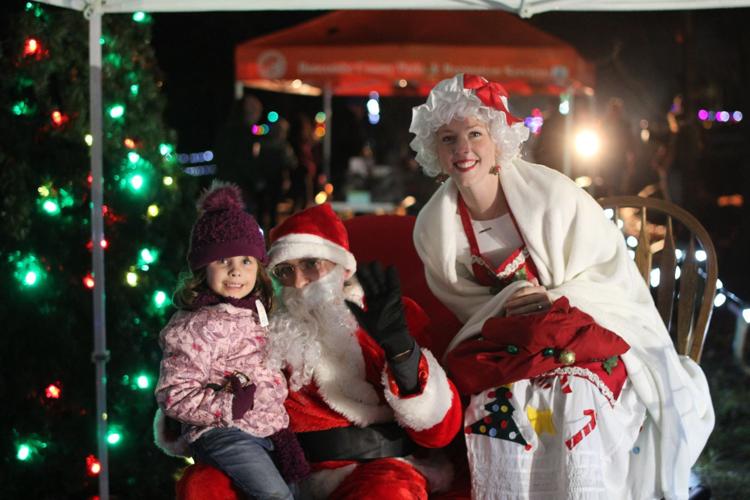 Both evenings feature visits from Santa and Mrs. Claus (bring your camera for pictures), holiday craft-making with the LEAF Community Arts Easel Rider teaching artists, fire circle, snacks, and family-friendly activities.
On Sunday evening Dec. 1, adult beverages can be purchase from Asheville Buncombe Adult Soccer Association.
Lake Julian Festival of Lights has become a tradition for many mountain families and visitors. A portion of the proceeds benefit Special Olympics Buncombe County. All festival activities are included with admission.
Admission is $5 (adults and youth 17 and older) and kids 16 and under get in free! Wear comfortable shoes, warm clothing, and be prepared to walk over half a mile on a paved walkway.
The walkway is of moderate difficulty with some inclines. Parents with young children are welcome to bring strollers or wagons. Pets are not permitted at the walk-through.
Parking will be available at Family of Faith Fellowship Church, 212 Long Shoals Road, Arden. Cars will not be permitted to enter the park.