When stocking the kitchens of his three Early Girl Eatery restaurants, owner Jesson Gil says he tries to buy locally—and organically—as much as possible.
"We're always looking at local food items to try to find something that we can buy fresh," he said.
Dishes prepared with local and sustainably produced ingredients taste better than those that are conventionally grown, Gil said. The cage free eggs with bright orange yolks that are served at Early Girl Eatery have a good flavor, he said.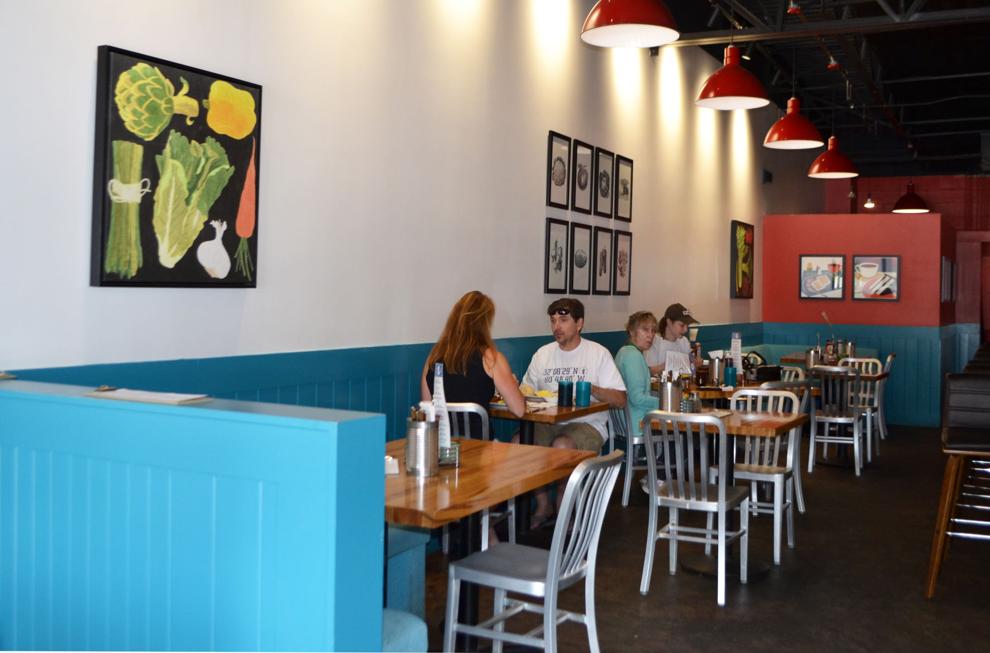 Gil's restaurants feature products from Imladris Farm in Fairview, which is known for its sustainably produced products such as berries and pasture raised eggs. The farm also has a line of jams and preserves using fruit grown on their and neighboring farms.
The breads served at Gil's restaurants are purchased from Geraldine's Bakery just down the street from the Merrimon Avenue restaurant.
The emphasis on local, fresh food is a reflection of what many health-conscious diners currently are seeking at restaurants they patronize, Gil said.
"We're satisfying clientele here today," he remarked.
Since opening the first Early Girl Eatery on Wall Street, Gil has been transitioning to buying as many fresh food items as possible.
"We've cut our freezer use down by 70 to 80 percent," he noted.
The menu at his restaurants changes regularly with the seasons, and specials change daily. This practice enables the chefs to better utilize locally available ingredients, Gil said.
Since opening his newest restaurant on Merrimon Avenue in the location of a former restaurant, Gil has worked with the head chef to create a commissary style kitchen where foods for all three restaurants are prepared for consistency.
When creating and refining menu items, Gil aims for what he calls a "heck, yeah!" experience.
One menu item that is popular with diners is the meat loaf, which is gluten free and served with tomato gravy.
Many of the items served at Early Girl Eatery are gluten free, Gil noted. The restaurants also serve original recipe items such as Ginger Coleslaw, Sweet Potato Black Bean Cakes and Apple Stack Cake.
Other popular items are the spinach and potato cakes, free-range chicken, veggie breakfast bowl, shrimp and grits and vegetable plate. The Shroomie Sandwich is prepared with marinated and grilled portabella mushrooms, caramelized onions, fresh organic spinach, sliced tomato and melted Swiss cheese on rye bread.
When Gil and his wife, Cristina, acquired the space for their third restaurant in May, they redecorated the space to create an attractive ambience for their diners. They are also remodeling the restaurant in West Asheville.
"We're selling a $12 meal, but not at a $12-meal place," he said.
Early Girl Eatery offers breakfast and lunch seven days a week and serves dinner Thursday through Saturday night. The restaurants serve spirits, beer and wine and have full bars at the North and West Asheville locations.
Opening three restaurants in recent years may be a new experience for Gil, but the food service business is familiar to him. Before relocating to Asheville, he owned two restaurants in Texas, his home state.
"I've always been in the restaurant business," he said.
After visiting Asheville a few years ago and enjoying the beautiful fall weather, Gil and his wife decided to settle here. He formerly owned the Blackbird restaurant in downtown Asheville before opening the first Early Girl Eatery, which is named for a variety of tomato.
Early Girl Eatery locations are 8 Wall St., 1020 Merrimon Ave. and 444 Haywood Rd. For more information, visit the website at https://earlygirleatery.com.