A harmonizing "baaa" echoed through the barn as Chasity Burleson opened her goat yoga session at Franny's Farm in Leicester Saturday afternoon.
Burleson, a private instructor, started teaching yoga only four years ago. Little did she know that only two years later she would be incorporating animals into her practice.
Inspired by the increasing popularity of goat yoga classes in Oregon, Franny Tacy, owner of Franny's Farm and first female hemp farmer in North Carolina, decided to introduce the practice in an area where she thought it would be met with positive reception.
After attending Burleson's yoga classes at the nearby community center, the two began to develop a close friendship, leading Tacy to eventually request Burleson as the primary instructor for the classes she intended to host.
"I am always up for creative, exciting ways to get visitors to Franny's Farm and it fits our fun style so we just did it," Tacy said.
Tacy, who holds a master's in education and worked as a schoolteacher for six years, searched for a means by which she could establish a platform for people to learn and connect with one another. To this end, goat yoga seemed to be exactly what she was looking for.
After expressing these sentiments to Burleson, Tacy had acquired the support she needed to get her enterprise running.
"That sold me," Burleson said. " And so I tried it and fell in love with it."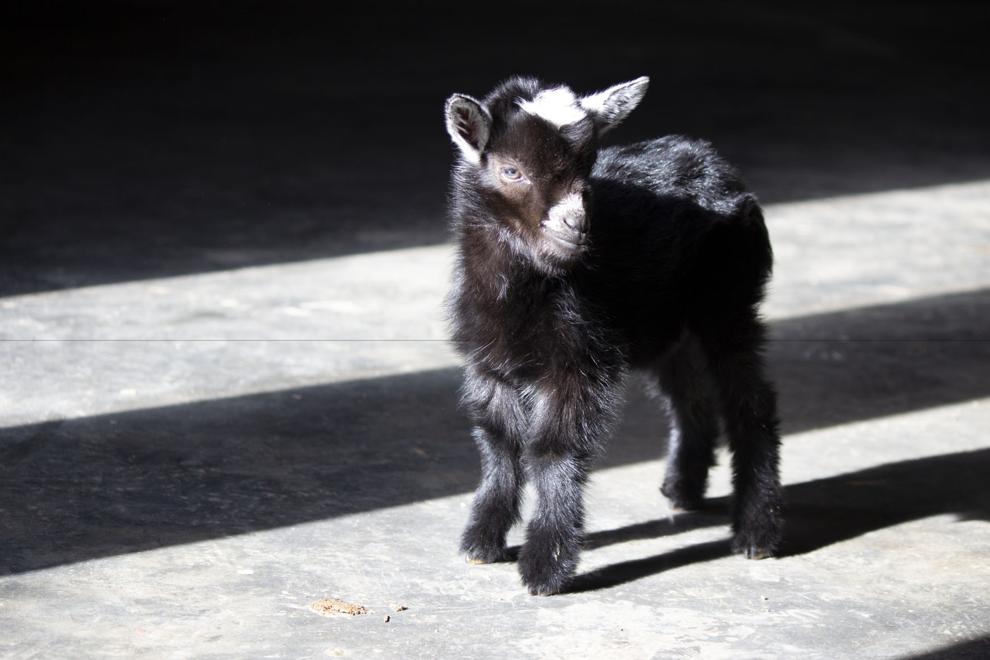 In April 2017 they held their first session, inviting members of the community to gather for a short respite involving bouncing goats and a light workout led by an experienced yogi.
Though the idea of loose animals running around freely during a workout may seem like little more than wholesome entertainment, Tacy and Burleson are contributing to what they believe to be a greater purpose.
"It opens doors for people who typically wouldn't go to a studio yoga class," Burleson said. "Sometimes it can be intimidating for people to step into a yoga studio for the first time, but stepping into a barn with goats knowing that people are paying more attention to the goats than you doing yoga kind of releases some of that tension or anxiety that a lot of people feel."
"It's just science. Being around goats and babies can release endorphins and naturally make you happy," Tacy explained. "Just taking a few hours to go have fun and a new experience, surrounded by the nature and animals on a farm is enough to bring joy."
Nearly two years have passed since that initial session, and Tacy shows no signs of slowing down. Occasionally she'll offer themed classes to keep things interesting, like Disgoat Yoga, a disco-themed yoga session she held around Halloween. There's also Toke with a Goat, her latest and greatest, which allows participants to sample Franny's Farmacy CBD topicals while enjoying a Franny's Grammy hemp cone before beginning the session.
Those who wish to attend the goat yoga sessions can expect to see goats of all ages, however, with the addition of three baby goats Salt-n-Peppa and Sativa, along with Fiona, a baby lamb, attendees should prepare for the company of a more bouncy and energetic group of animals.
Classes will be held every Saturday in February, with the exception of the 9th, and during the first two Saturdays of March. Two sessions are offered each day, one at 10:30 a.m. and another at 3:30 p.m. She also offers private sessions year-round for bridesmaids and wedding parties.
Tickets are typically $20 and all proceeds are put toward caring for their goats and the costs associated with keeping the practice of goat yoga alive on Franny's Farm. Admission is free for children 10 and under. Anyone without a mat can rent one on-site for $5.