Nestled deep within the Leicester community is Franny's Farm, a venue for lodging, weddings, cooking classes, camping, goat yoga classes and a research facility legally developing 12 different strains of hemp for smoking and the production of CBD oil.
The farm is run by Franny Tacy and her husband and dedicated business partner Jeff Tacy.
Leap Frog Tours has teamed up with Franny and her team to offer the Franny's Farm Hemp & CBD Tour so visitors can learn all about hemp agriculture and the many benefits of hemp and CBD and explore the 32-acre farm.
The farm also has a community garden, raises Barred Plymouth Rock chickens and harvests and sells fresh eggs.
"We also have goats, sheep, cows, two kittens, a hog named Dumplin and a donkey named Abigail," said farmworker Chase Jacobus. Blue, a black Standard Poodle, has an impressively long and distinctive beard.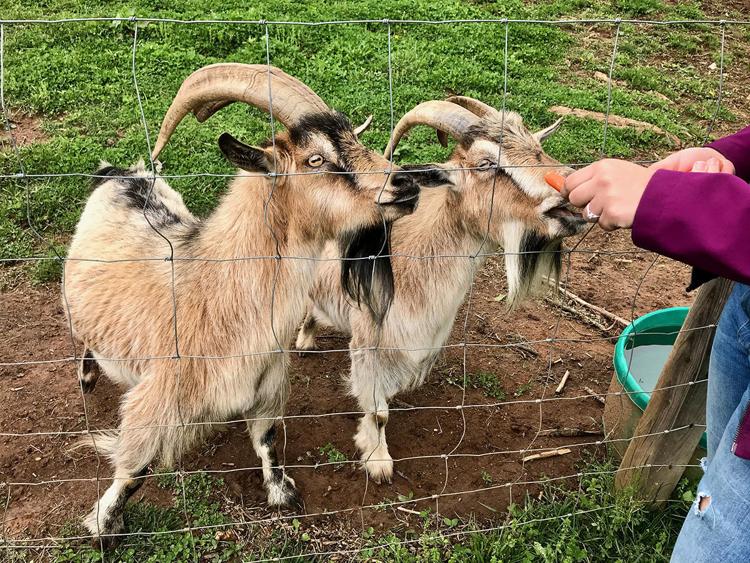 Jacobus said they plant seeds in the spring and plants are harvested in October.
"What we like to do is process whole plants, roots and all, so you're getting the full spectrum of everything in the plant. We trim them for smokable buds, but we use the entire plant for CBD oils and topicals at the 'Farmacy,'" she said.
Large tanks are filled with water pumped from a nearby stream and nutrients are added. The one acre plot of hemp plants is then irrigated with a gravity fed system.
With the decline of use of tobacco, hemp farmers look to the emergence of industrial hemp cultivation to reinvigorate agriculture in western North Carolina. It depends on the strain, but generally speaking, male plants are a little taller with more foliage on the outside. Female plants are bushier with a strong inner core. The farm grows only female plants to avoid cross-pollination of different strains.
The hemp trail offers some interesting historical background. For example, a piece of hemp fabric is one of the oldest artifacts found on the planet. It's amazing that it has endured for over 8,000 years. The first evidence of hemp paper, made in China, dates back to 100 BC. In 1,000 AD the English word "hempe" is the first listed in the dictionary and is commonly used throughout. In 1533 King Henry VIII fined farmers if they did not raise hemp for industrial purposes.
George Washington, Thomas Jefferson and John Adams all grew hemp and actively advocated for commercial hemp production. The 1776 Declaration of Independence was drafted on hemp paper. From 1850 through 1915 marijuana was widely used throughout the United States as a medicinal drug and could easily be purchased in pharmacies and general stores.
In 1937 the U.S. Congress passed the Marijuana Tax Act, a law that required farmers to register their hemp crops with the federal government and purchase an exorbitantly expensive tax stamp. William Randolph Hurst, who had significant financial interests in the timber industry (which manufactured his newsprint paper), wrote many newspaper articles against hemp. These articles were used as part of the testimony Congress used to support the ban.
During World War II, more than 150,000 acres of hemp were cultivated as part of the USDA's "Hemp for Victory" program. Circa 1941 Henry Ford developed a car that ran on hemp ethanol fuel. Ford also built an experimental car body made with hemp fiber, which is ten times stronger than steel.
In 1970 industrial hemp was classified as marijuana under the Controlled Substances Act despite decades of agricultural research that identified industrial hemp varieties as unique in structure and function. In 1998 the U.S. began to import food grade hemp seed and oil.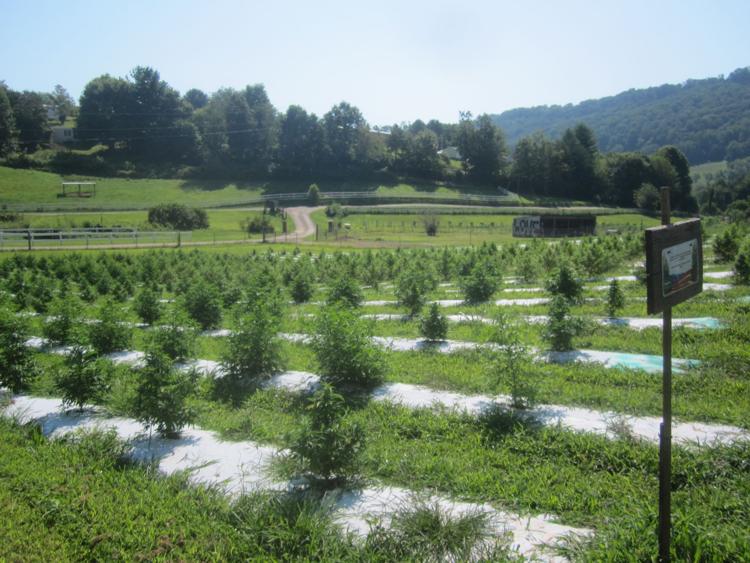 In 2014 President Obama signed the federal Farm Bill with Hemp amendment, section 7606, allowing states with hemp legislation in place to grow hemp for research. Kentucky, Vermont and Colorado became the first states to grow hemp in decades.
Tacy became the first recorded female farmer in North Carolina to plant industrial hemp from seed in 2017. Since June 2018, as a result of the 2014 Farm Bill, every state has the right to set up industrial hemp pilot programs through universities or the state's Department of Agriculture.
To date, 39 states are hemp-legal, but outdated Federal policy still classifies this versatile, sustainable crop under the Controlled Substances Act.
The Hemp Tour concludes with a visit to Franny's Farmacy on Merrimon Avenue. The shop has a full line of CBD and related hemp products including hemp beer.
For more information about Leap Frog Tour's Hemp Tour at Franny's Farm, Asheville's first, visit their website at www.LeapFrogTours.com. The Hemp Tour specifically can be booked at www.tinyurl.com/BookCBDHempTour. Franny's Farm is not otherwise open to the public.