If you're wondering what to do with company — or want to explore amazing experiences in Asheville and the surrounding mountains — check out what's new at Leap Frog Tours. The transportation company is expanding (literally) by leaps and bounds, with interesting and unusual experiential outings. 
Founders Ann Smith and Kim Turin have been friends for years, having met when their children attended French Broad River Academy. The entrepreneurs hatched the idea for Leap Frog Tours during lunch at a craft brewery in Waynesville, and kicked off the company December, 2016. Beginning with brewery tours, the company quickly grew, offering arts, naturalistic tours and custom transportation.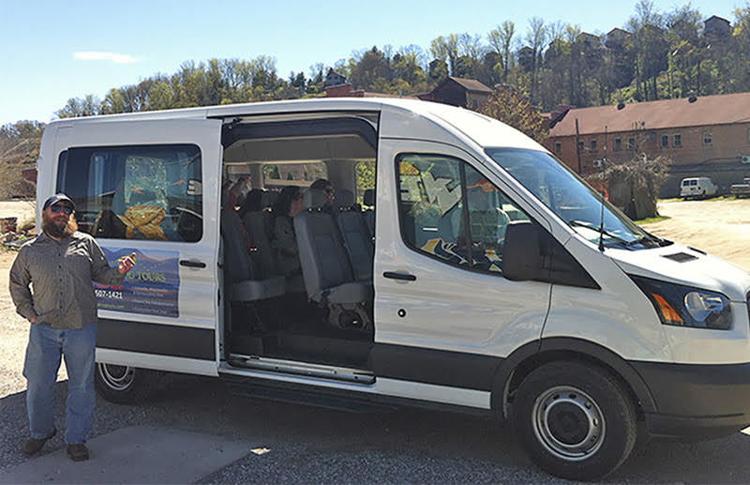 Leap Frog's tours offer transportation with a twist — guided commentary, with insight — while transporting guests in comfortable vans, seating six –12, each guest with their own seat.
Smith, Turpin and their business development manager, Mark Merritt, have been busy discovering new and memorable outings, sure to delight residents and guests alike.
"We tap into what we find interesting about the area and showcase that for other people to enjoy," Smith said.
New offerings
• RiverLink Tour — Leap Frog has partnered with RiverLink to share the history of Asheville's riverfront and showcase RiverLink's environmental work to protect, preserve and beautify the French Broad River and its watershed.  
"Anyone who lives in Asheville, appreciates and enjoys the river and supports sustainability will want to take this tour," Smith said. "It's a lesson in local history and current-day environmental efforts to preserve the French Broad River for the enjoyment of everyone."
There is also a stop for a bite to eat along with a craft beer.
• Plein Air Painting Tours — Plein air painting, done outdoors, revels in the beauty of the WNC mountains. Jo Ridge Kelley, a renowned artist from Waynesville, leads the sessions. Attendees do not need to be accomplished artists; all skill levels are welcome.
 "Jo brings Zen to your day as she helps you create your masterpiece," said Smith. "Those who want to tap into their creative side and get away from devices and the hectic pace of life will enjoy our plein air painting tours."  
The sessions include a picnic boxed lunch. All supplies are provided. 
• Killer Bees Honey Tour — Leap Frog has partnered with Killer Bees Honey, a secluded organic apiary atop Walnut Cove in the Pisgah National Forest.
Attendees learn about the matriarchal social system of the hive from the owners, who are expert beekeepers, dedicated to their craft.
A highlight of the tour is the guided honey tasting and gourmet food pairing. Killer Bees' certified 100 percent organic sourwood and wildflower honeys are taste delights — and the tours get rave reviews.
"The honey tasting and pairings are to die for," commented guest Tim Early. "(The tour is) guaranteed to be one of the best experiences of the Smokies." 
Those who want to put on a beekeeper suit may visit the hives in a guided look into the wonders of honey. 
"Anyone who appreciates nature and its delectable treats would love this tour," Smith said.
Children 12 and older are welcome on the tour.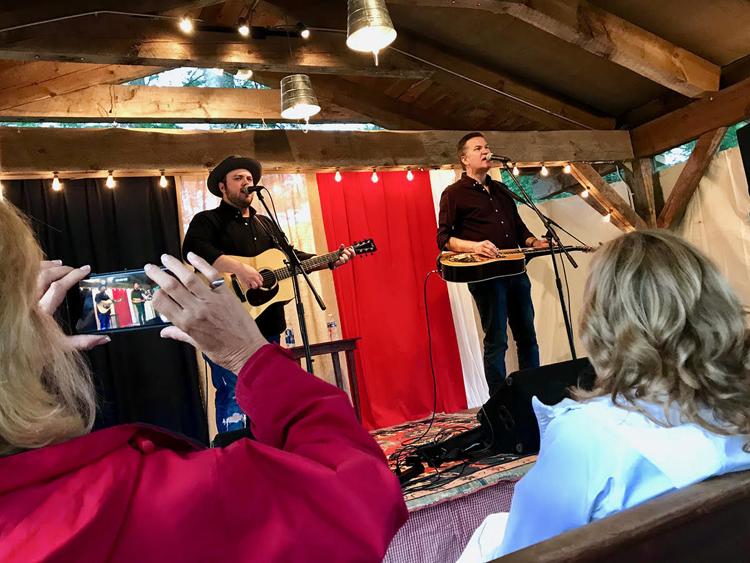 • Cataloochee Ranch Music Experiences — Have a musical VIP experience a mile high at Cataloochee Ranch.Leap Frog partners with Cataloochee Ranch, long known for its intimate music concerts, to elevate music to a personal level. 
Learn what inspires the musicians in their craft in a special pre-concert Q&A session.
With the VIP experience, guests enjoy a pre-show social hour, Q&A session with the band, a delightful Ranch buffet dinner — and VIP seating for the concert, set in the Ranch's outdoor pavilion. 
The VIP experience includes round-trip transportation from Waynesville or Maggie Valley to Cataloochee Ranch. Leap Frog can provide pick-ups/drop-offs to other locations, upon request for groups of six or more.
• Three Billboards Outside Ebbing, Missouri Tour — The much-awarded movie was filmed in Sylva and Black Mountain. Leap Frog takes attendees to locations used in the movie, including the Ebbing police station, Red Welby's house and officer Dixon's house.
"There are two surprise stops on the tour that tie into specific elements in the movie, and we've got an interactive element to make it fun," Smith said. "If you loved the movie, you'll enjoy the tour."
Additional popular tours
Leap Frog's established tours offer a range of fun and educational experiences.
• Cataloochee Elk Adventures — Take an evening excursion in search of elk. Leap Frog's experienced drivers take guests into Cataloochee Valley, sharing history and the successful reintroduction of elk to the valley in 2001. The tour includes a boxed picnic dinner and watching the sun set at a scenic overlook. 
 "This is a favorite, especially for families," Smith said. "So far this season, the elk have been plentiful."
• Outlier Beer Tours —  "Our beer tours focus on educating guests about the beer and the brewing process, with a designated driver and a safe environment," Smith said.
• Asheville Tourists and Thirsty Thursday Shuttle — Have fun at a Tourists game with a designated driver on the Leap Frog shuttle.
"We want people to enjoy the game and the $2 craft beers safely." Smith said. "Our shuttle takes groups from Waynesville and Canton to Thirsty Thursday games.  And, we would love to get shuttles going from Biltmore Lake and Biltmore Park."
Custom Services
Leap Frog Tours also provides custom tours and private transportation. 
"Our vans and drivers can be hired for any kind of transportation — shuttles for a small or large private event; wedding transportation for the bride and groom, bridal party, or the entire guest list; or even for a night out on the town with a group of friends," Smith said.
Leap Frog also provides private airport transportation.
Check out these and other Leap Frog Tours at www.leapfrogtours.com. Leap Frog Tours is at 419 N. Haywood St., Waynesville; call 828-246-6777.