Grovewood Gallery in Asheville presents Street to Studio, a solo exhibition of work by local artist Neil Carroll, featuring graffiti influenced, mixed-media art and fine furniture.
The show opens on Saturday, July 13, with an artist's reception from 2-5 p.m. (free and open to the public). Street to Studio will remain on view through Sunday, Aug.18.
Neil Carroll is a graduate of the Cleveland Institute of Art — where he studied painting and printmaking — and the Haywood Community College Professional Crafts Program in Wood. Skilled in many disciplines, Carroll has been a working artist his entire adult life. He was a landscape designer on Hilton Head Island before moving to Western North Carolina in 2002. During this time, he started painting more and showing his work. He wanted to have a creative outlet that he could make a living from, so he began honing his skills as a furniture maker.
Carroll started doing legal graffiti about 5 years ago. He has some large mural pieces in the Asheville's River Arts District, including a rabbit spray-painted on the building that houses 12 Bones Smokehouse. When asked about the draw of street art, Carroll says he's attracted to the layering, wonderful surfaces, color, and "the unfettered creativity that is produced without any need or hope that the piece is anything but temporary. It helps kill the limitation of hesitation. It's had, and continues to have, a tremendous impact on the rest of my art practice."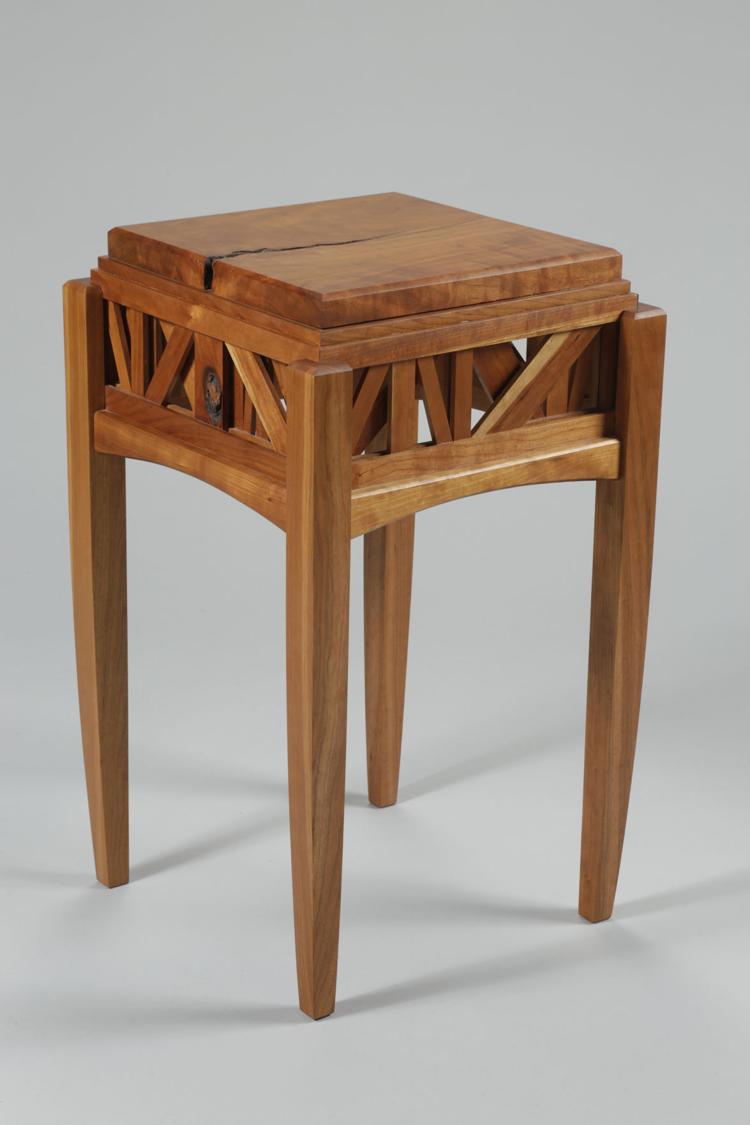 In Street to Studio, Carroll will showcase fine furniture, paintings and drawings (both large and small-scale) that have been heavily influenced by his graffiti art. His furniture offerings will include finely crafted tables, chests, and cabinets — handmade from domestic hardwoods and exotics. Carroll says his wood is sourced from all over, including lumber yards and specialty shops as well as dumpsters and old buildings.
"No matter what kind of work I'm producing, I like the big box of crayons," he said. "I pick and choose wood types and combinations that fill my design needs. I don't have any kind of agenda as to my materials other than how they will affect the visual impact of the piece. I pick wood for color and texture, with a small amount of consideration for the technical aspects."