Evocative symbols of power, faith and renewal, the silent snake has been depicted in mythology, literature and art through time. Historically, serpents have been associated with some of the oldest rituals known to humankind and represent dual expression of good and evil.
As snakes grow, many of them shed their skin at various times, revealing a shiny new skin underneath. For this reason snakes have become symbols of rebirth, transformation, immortality, and healing.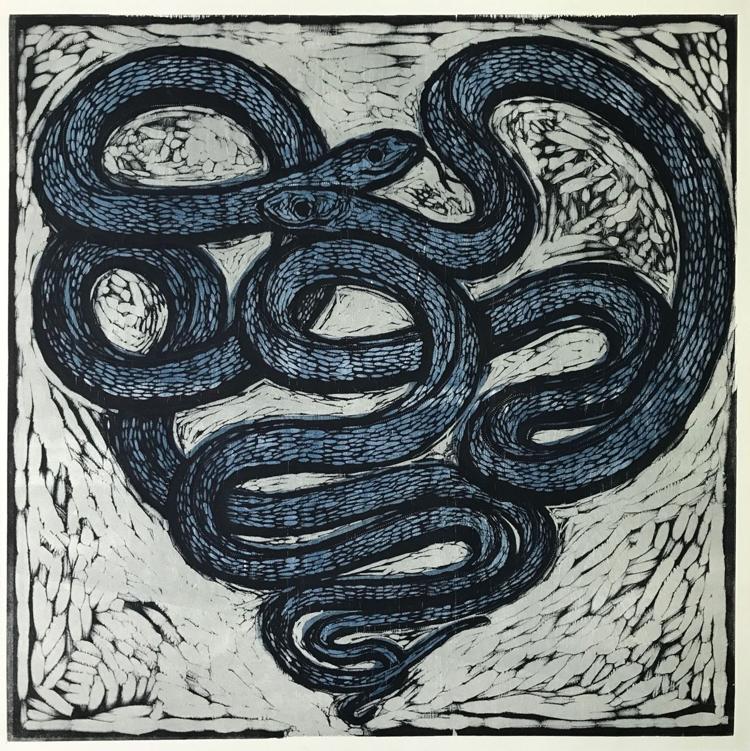 American Folk Art, located at 64 Biltmore Ave., regularly has artwork featuring mysterious snakes and has created an entire show devoted to them. Sculptural forms carved out of wood, pottery and ceramic works, paintings and woodblock prints will be included in the show.
The work of folk and self-taught artists is rooted in personal experience, and encounters with snakes are experiences not soon forgotten, from awesome to fearful, it is a subject often explored. While creating a show devoted to snakes will perhaps be unsettling to some, without the surprise element of encountering one in the wild, perhaps the beauty, the textural nuances and real charm of these remarkable creatures may evolve a few attitudes towards fascination or even appreciation.
"In curating artwork for the shows we present, I look to my artists to lead me to subjects several are, by coincidence, exploring. Several artists we represent like to use snakes as subjects and whenever snake imagery is shown in the gallery, the reaction is intense and immediate; it seems everyone knows exactly how they feel about snakes," said gallery owner Betsey-Rose Weiss.
Snake Charm will include works by Kent Ambler, Lonnie & Twyla Money, Liz Sullivan, Tres Taylor, Jim Garry Phillips, and pottery by Marvin Bailey & Mike Ball.
American Folk will preview the show at www.amerifolk.com at 11 am on Tuesday, June 4. The show will open in the gallery at 64 Biltmore Ave, downtown, at 10 a.m. on Thursday, June 6.
A reception will be held in the gallery from 5 – 8 p.m. on Friday, June 7, 2019.