Wood-centric exhibitions have been popular in Asheville art galleries this summer. Jordan Ahler noticed this, and wanted to offer a fresh take on the trend.
So instead of featuring strictly woodturned art — bowls, ornaments, that sort of thing — Ahler, the owner of Momentum Gallery, decided to highlight sculpture and studio furniture, too. His goal was to "curate a group of imaginative and extraordinary artworks in wood."
The result was "Give Me Wood," a group exhibition featuring work from a slew of internationally-renowned artists. Nine artists in total are currently displaying their creations, which include whimsical surrealist works, politically-charged pieces and even a snail moped made from rubberwood (more on that later). The show began June 27 and will run through the end of August.
"I decided to put together a collection...that would complement those [other woodturned] collections, and present a different side of wood art," Ahler said. "[It] features some wonderful turned objects, but also includes assembled and painted sculptures, trompe l'oeil works, wall sculpture, cabinets with imagery of Japanese internment camps, and fabulous studio furniture."
"I like including unusual and atypical works that challenge preconceived notions," he added.
The collection is indeed varied, in both style and emotional thrust. Gil Bruvel's large, colorful painted stick faces invoke a sense of serenity. ("[They] remind me of those classic pin box toys that hold an impression of your hand or face," Ahlers said). Michael Alm's "Red Fox Cross-Section" — a taxidermied fox head that's half wooden skull, half fuzzy fox — is rustic and foreboding. Gary Knox Bennett's furniture is as liberating as it is mind-bending.
It's Wendy Maruyama's EO9066 series, however, that delivers perhaps the most powerful statement. The series refers to Executive Order 9066, which resulted in the internment of hoards of Japanese-Americans in the 1940s.
"It led to the establishment of...camps that housed 120,000 U.S. citizens and forced them to remain there until the end of WWII," writes Jordan's wife, Shifra Ahlers, on the Momentum Gallery blog. "Sadly, some of these same internment camps are now being reinstated for migrant children."
When asked to point out his favorite pieces in the exhibition, Ahlers couldn't name just one.
"I'm pretty taken with all of it," he said. "That's part of the beauty of being a gallery owner: I get to present works that really speak to me."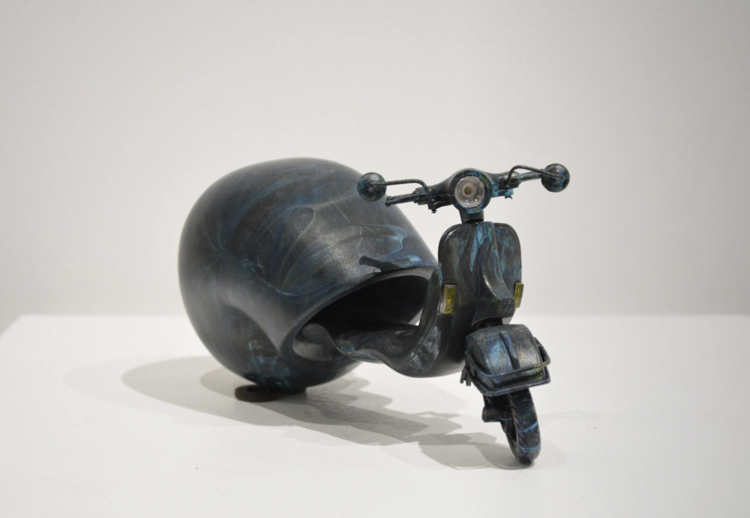 That brings us to the aforementioned snail moped, officially titled "Snail Moped (Rubber Tree Histories and Possible Futures)." While it looks like a relatively simple piece of surrealistic art, its backstory is nuanced.
It was created by Sylvie Rosenthal, who's worked and taught all over the world. As she explained, the idea for the snail moped was borne out of seemingly disparate experiences that she coalesced into a unified final product.
Rosenthal was working on an exhibition titled "House of Risk" about the Villa Terrace mansion located in Milwaukee, Wisconsin (her home state). One day, she sampled the wood from a stool in the house, and found that instead of being oak (as expected), it was actually rubberwood.
Rubber trees, she then discovered, are native to South America. But they were taken to Asia, making them susceptible to blights. This made Rosenthal think of snails, which are often symbols of change and/or invasion.
The family which once owned the Villa Terrace was deeply involved in the automobile industry. Additionally, Rosenthal took a trip to Cambodia and noticed that mopeds were everywhere. These both inspired the idea of turning a moped into a snail shell.
It was, perhaps, a snail-like invasion.
"[When I was in Asia], I saw all of these mopeds, and the mirrors looked like snails to me," she said. "I had the idea of the snail in my head, so when I found that rubberwood stool, and it all sort of clicked. That's when I realized that, besides being a visually-compelling object, the snail moped also had some depth to it."
It's this artist's logic, an ability to connect dots that others may never have thought to connect, that gives the unique piece a layered meaning. It also captures the general spirit of the "Give Me Wood" exhibition — this idea of escaping the rational and leaping into the fantastical.
"The world can be so logical," Rosenthal said. "I hope my work gives space and breathability to wonder about the possible."