On a picture-perfect Saturday evening with sunshine and blue sky overhead, tables at Isis Music Hall & Kitchen 743 were filling up as guests arrived to enjoy a meal and hear live music in an al fresco setting.
After setting up on the outdoor stage, singer and guitarist Matt Fassas began performing with his group as wait staff circulated and took orders from diners.
For the past few weeks, this entertainment and dining venue has been offering lawn concerts in a spacious tree-shaded area beside the vintage building in West Asheville.
"We've had a good turnout so far," said Harris Woody, who works with his father, Scott Woody, at the family establishment.
Three of the four initial concerts held on Friday and Saturday evenings have been sold out.
"We're happy with that," Woody said.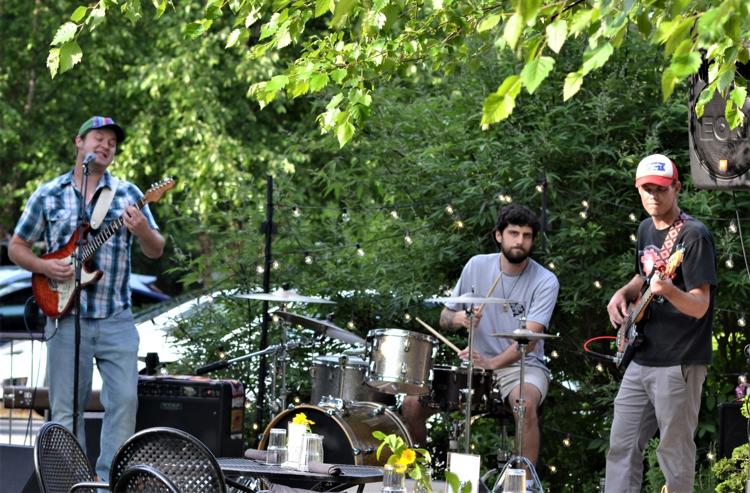 To comply with Phase 2 of the COVID-19 directive, tables are appropriately spaced at patio and lawn area, which can currently accommodate 50 to 60 patrons each evening.
While lawn concerts have become a summertime staple at Isis Music Hall in recent years, the present restrictions under which this and other venues are operating limit the number of people that can be accommodated.
Previously, lawn concerts were free and open for casual gatherings of people who could opt to sit on the grass and order beverages and snacks, if they chose.
At this time reservations are required for tables that are designated for dining only. And a $10 entertainment fee is charged for the music performances.
The present menu also is a limited version of the one typically offered at Kitchen 743, Woody said. However, menu still offers a variety of entrees geared to specific tastes such as pescatarian.
As the summer season continues, there are plans to offer lawn concerts on additional evenings, said Scott Woody as he welcomed guests Saturday night.
Lawn concerts are scheduled through July and include Zoe & Cloyd, the Lazybirds, Autumnwud, Life Like Water and Eleanor Underhill and Friends.
The Woodys have a contingency plan in case of rain on an evening when a lawn concert is scheduled. As many as 40 people can come inside the building to dine and hear music played on the main stage of the venue.
If present restrictions are eased at the end of June, other shows that include indoor performances may be offered, Harris said.
"We're waiting to see what the governor will do," he remarked.
A retired veterinarian from Atlanta who is also a musician, Scott Woody manages the booking of bands.
The music that various groups play at the music hall ranges from bluegrass to jazz, Americana, classic rock, folk and alternate country.
After moving to Asheville some time ago, the Woody family that includes Scott, his wife, Lilliana and their sons, Harris and Martin, began an extensive renovation of the prominent building on Haywood Road they had purchased.
The family retained the original name of the former theater, which reflects the era in which it was built. Isis was an ancient Egyptian goddess whose image was revived as art deco style architecture flourished in early 20th century Asheville.
For more information about upcoming concerts at Isis Music Hall & Kitchen 743, 743 Haywood Rd., visit the website at https://isisasheville.com or call 828-575-2737.