Moody rock music. Thought-provoking lyrics. Out of the box sounds. This is Kansas - and they're back for another Asheville show.
The progressive rock band known for its albums "Point of Know Return," and "Leftoverture" will be returning to Asheville for a special tour this November.
Kansas is celebrating the 40th anniversary of the massive hit album "Point of Know Return" and they are returning to The U.S. Cellular Center to perform the album in its entirety for the first time in history.
But that's not all — the tour will showcase more than two hours of classic Kansas music, including hit songs, deep cuts, and fan favorites, said Kansas guitarist Rich Williams. 
"It's going to be a great night for fans," Williams said over the phone at his home in Atlanta. "We will play the album in its entirety, and we will do acoustic renditions. Plus, there will be a middle set of various songs from all our records. It will give us the opportunity to go back to do things we haven't done in a long time."
Williams has been a part of Kansas for 45 years, and says pursuing a career as a "rock star" has kept him young at heart. After decades of shows, Williams still says performing is pure fun.
"I'm a guitar player so I love to play guitar," Williams said. "It isn't real work. I know what real work is and this doesn't qualify. It's fun and it has taken me to so many places." 
And Williams and the rest of the Kansas crew will continue their traveling journey to perform 24 shows on the new tour starting Sept. 28, making a stop in Asheville Nov. 30.
Williams said the past tour for their album "Leftoverture" was such a huge success that touring for "Point of Know Return" was the band's logical next move. 
The band ended up shelling out 82 concerts in 2016, and they will rock out their progressive classics again at Thomas Wolfe Auditorium this year.
But is "Point of Know Return" Williams' most favorite album?
"That's kind of like asking which is your favorite child," he said. "It's aways evolving." 
"Point of Know Return" was released in 1977, which became the band's greatest selling album featuring the smash hit single "Dust in the Wind."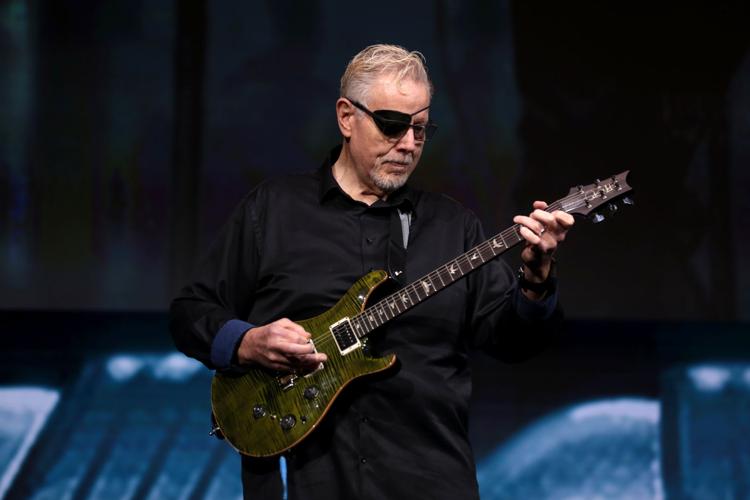 Rock star for life 
Williams is no stranger to hard work - after joining the band at age 24 he is now 68 and is still the same go-getter rock star.
"You don't ever completely grow up in a rock band," Williams said.  "It is as close to the Fountain of Youth as you can get."
Williams is sometimes recognized for his eye patch he wears. He lost his right eye at a young age after experimenting with fireworks. An accidental explosion blew a hole through his hand and shredded his clothing.
"I was covered with bits and pieces of broken glass," he said, explaining his eye injury.
But losing his eye never mattered when it came to music - guitar and music was, and still is, his life.
Williams spends most of his spare time practicing guitar, rehearsing for the new tour and learning new material. And when asked what his hobbies were, he gave the same answer: guitar.
"You have to stay on top of it all the time," Williams said, adding that he often plays guitar in his hotel the night before a show. "Everyone has a lot of homework and it's constant rehearsing. I can understand why people stop doing it. I'm just lucky I love it all."
And devoting your entire life to a band isn't for everyone - as was the case for former singer Steve Walsh, who left in 2014. Walsh was replaced by Ronnie Platt, who seems to fit like a glove, Williams said.
"Steve kind of had enough and didn't want to do this anymore," Williams said. "He had been struggling with his voice for quite a while and here comes Ronnie - not only is he eager, but we could name a song and Ronnie could sing it. It opened up a whole other category for us."
"Today Kansas is a group of guys who do want to do this," he added. "The best part of playing in a band is playing in a band. It's not not looking back and seeing all you've accomplished, It's all us guys just getting together."
But what makes Kansas such a versatile band? William knows the answer: the diversity and variety of their songs.
"We have never been a one-trick pony," he said. "We go from one song to the next and we don't always sound the same."
And what inspires the band to write these kind of songs? They just know what fits.
"It's s easier to find what we are than what we're not," Williams said. "We will try something and say 'This is not a Kansas song,' but you know it when you hear it."
Tickets to see Kansas in Asheville on Nov. 30 are still available. The show starts at 8 p.m. and the tickets range from $35-$95. 
To purchase tickets, visit https://www.uscellularcenterasheville.com/event/kansas-point-of-know-return-tour/.